Usually, schools require lunches to be packed nut free. If your school is a NUT-FREE ZONE, don't worry. I've got your back with these 10 NUT FREE FREEZER FRIENDLY LUNCHBOX SNACKS.
I have included some different bliss ball recipes, because being no-bake, they are seriously the quickest and easiest school snack to make.
Making snacks and lunches that are nut free and store in the freezer means that you will have a freezer full of go-to snacks ready to grab on busy school mornings. Anything to make school mornings stress free is a winner for me!
10 NUT FREE FREEZER FRIENDLY LUNCHBOX SNACKS
1. Healthy, No Bake Muesli Slice
This healthy, no bake slice doesn't just taste delicious, it's also good for you! Made by combining all of the ingredients together in a food processor, it can be prepared in less than give minutes and stores beautifully in the freezer.
These healthy raw cookies are, of course, nut free and freezer friendly. They are also free from eggs and dairy. They are made with healthy seeds, oats and fruits with a hint of cinnamon and are kid approved.
These raspberry bliss balls are my favourite. They taste like a Cherry Ripe bar, but healthy! Containing raspberries, coconut and medjool dates, they make a lovely, sweet snack. They keep in the freezer for a quick lunchbox treat.
Homemade muesli bars are so much healthier and tastier than store bought bars. They keep well in the freezer and will defrost by snack time. Add your own style by adding linseed, chocolate chips, rice bubbles, anything you have on hand in the pantry!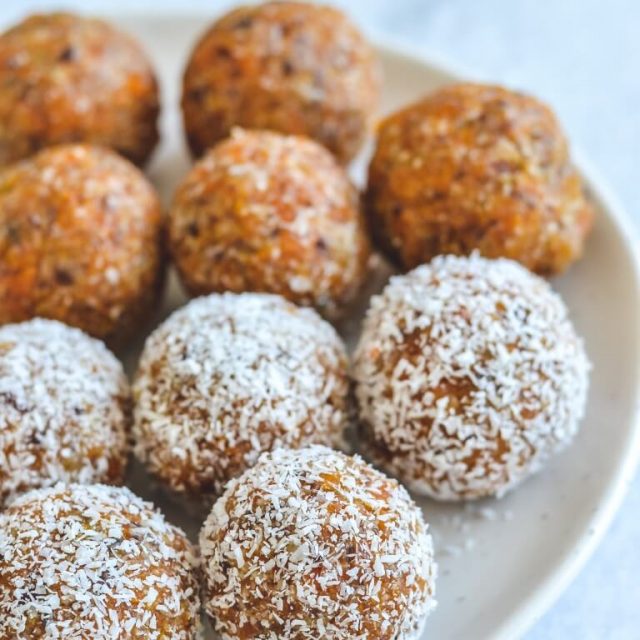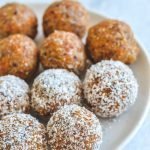 Who else loves bliss balls for their convenience? Not only are these apricot bites super easy and fast to make (with minimal dishes too- win!), but they are also yummy! They are the perfect size for lunchboxes and also for a quick snack on the way to after school activities.
My kids love these healthy banana muffins. Sweetened with maple syrup and honey, they make a much healthier alternative to regular muffins. Pre-wrap them in baking paper and store in an airtight container in the freezer, ready to add to school lunches in no time.
7. Strawberry Shortcake Bliss Balls
Nut free and no refined sugars. These bliss balls taste like a strawberry shortcake and kids love them! They can be eaten straight from the freezer if needed and fit perfectly into lunchboxes.
8. Banana Bread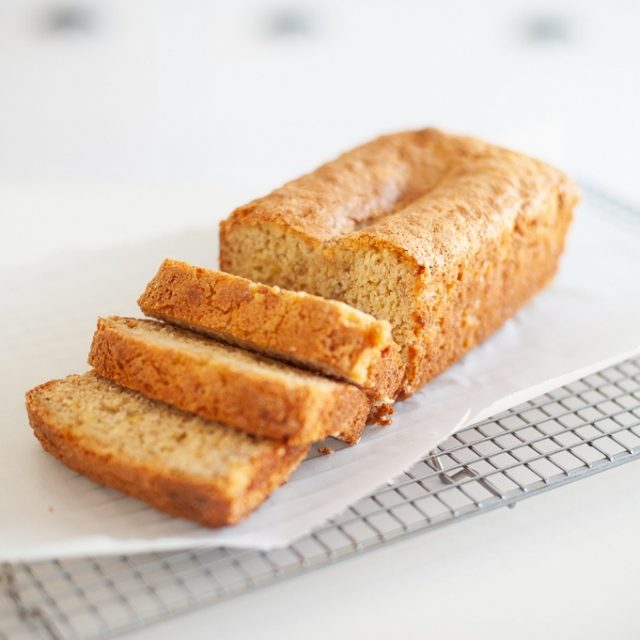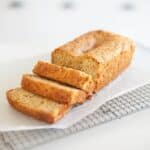 This banana bread is my favourite. The perfect solution for any time you have brown bananas in your fruit bowl. You can bake more than one batch, then slice and wrap in baking paper before freezing, ready to grab and go. You can mix up the variety too- just poke in some berries, choc chips or dates before baking. So yum.
9. Nut Free Chocolate Bliss Balls
A great way to introduce kids to bliss balls. These healthy balls make a perfect chocolatey treat, minus the nasties. Ideal for lunchboxes or after school treats, these balls store in the freezer for stress free school mornings. For a delicious choc mint version, see my nut free choc mint bliss balls.
10. Chia pudding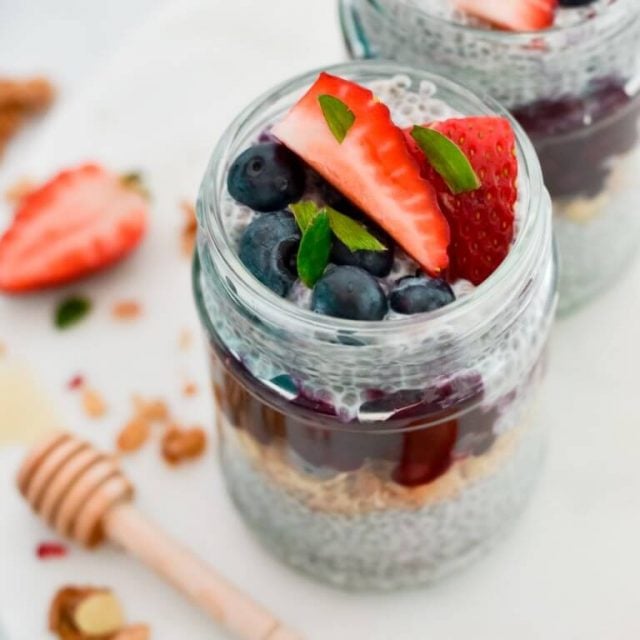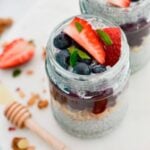 Chia pudding is such a nutritious food. Packed full of goodness, you can add fruits, granola or cacao for a healthy breakfast, lunchbox snack or after school treat. Chia pudding can be stored in the fridge for five days, meaning you can portion it for every school day. It also keeps in the freezer, just thaw in the fridge or lunch box before consuming.
And, as a bonus, this healthy choc coconut slice!
This healthy choc coconut slice can be made in a food processor in less than five minutes and can be easily stored in the freezer in an airtight container, ready for use. Similar to a Bounty bar, but made with healthier ingredients.
Need more lunchbox inspiration? Check out my time saving tips for delicious school lunches or my lunchbox ebook: Home Made Lunch Box Ideas.
Are you following us on Facebook, Instagram and Pinterest?
Thanks for reading! Subscribe to The Cooking Collective to have more beautiful recipes delivered straight to your inbox.