Below is a guide on cooking with kids and some age appropriate tasks and foods that you can enjoy with your little ones.
Cooking With Kids Guide
Cooking is one of the most important, lifelong skills we can learn.
Teaching your kids this skill from an early age is the key to getting them interested about food and become more adventurous eaters.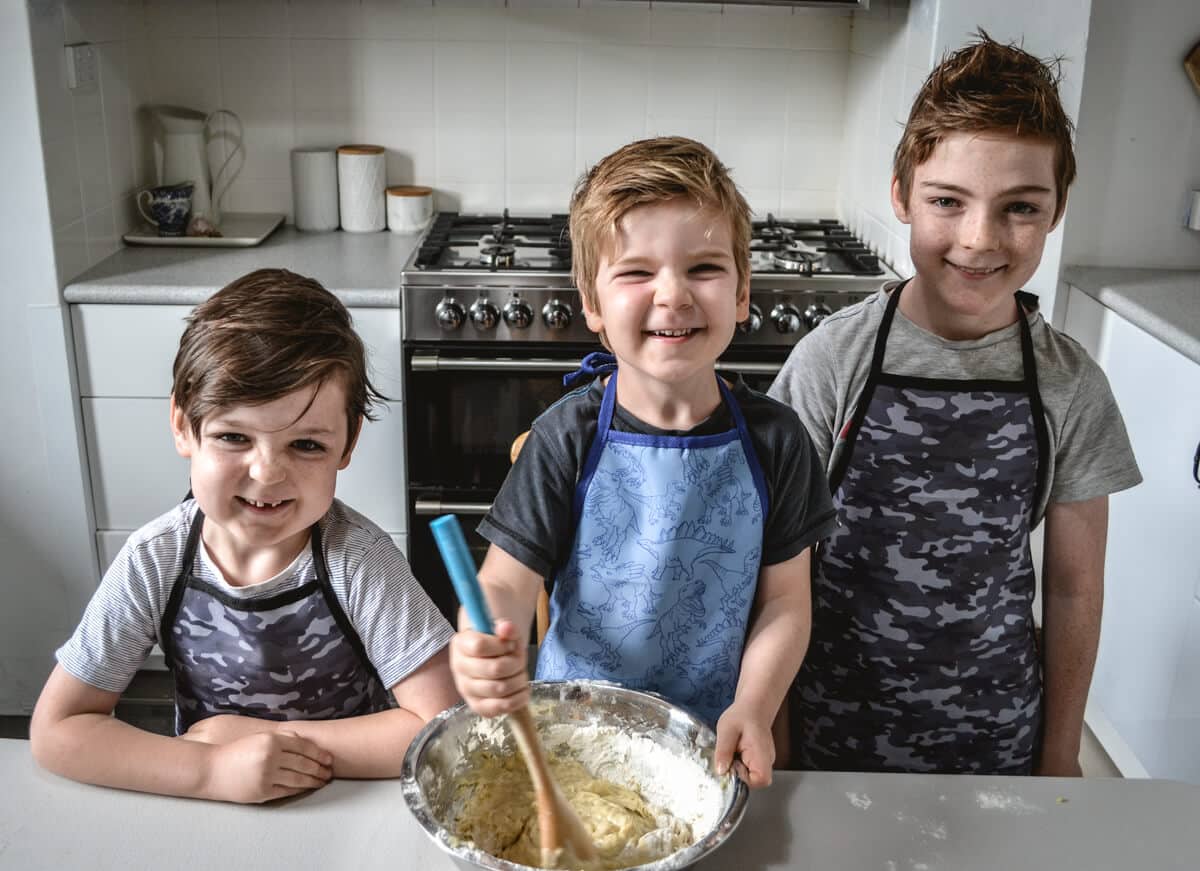 Here are my tips for having fun in the kitchen at every stage;
Start as soon as possible;
Kids have an incredible ability to learn and soak up knowledge from such an early age. They are little sponges! Which means we can start gently introducing them to cooking right from the start.
Getting fussy eaters involved in the cooking process also means they are more likely to be more adventurous and try new foods.
Age and Ability;
There are a lot of great recipes available for every age group and level of development. Younger kids can have very short attention spans, so they may not stay interested in the whole process. Even helping with a few steps will help them learn and gain a sense of satisfaction with their creations.
They will learn skills little by little and feel a huge sense of accomplishment once they have mastered something new.
You know your kids best. Be sure to choose a recipe with an appropriate time length and activities that will suit your child.
Plan Ahead;
If you're going to have kids helping in the kitchen, you don't want to be rushed.
Choose a time when it's not hectic or hurried where you don't have time to explain the steps or let them help. If you have younger kids, choose a time when they're not tired or frustrated.
Choose an appropriate recipe, one that your child/children will enjoy and one that has suitable steps and activities. Make sure you have all of the ingredients and equipment required before getting started.
Where possible, plan what you'd like to make together and write a shopping list.
When cooking with small children, I will generally do some preparation first before getting them set up to help, for example, setting up and washing ingredients, preparing cake tins, etc.
Teach Good Hygiene;
Good food hygiene is important to learn. Teach your little ones to wash their hands thoroughly with soap and water, as well as keeping dishes and bench spaces clean. Make sure they wash their hands if touching raw ingredients or tasting food with their little fingers.
Safety First;
All children will need supervision when working in the kitchen. Teach them not to touch hot items, electric appliances like beaters, hot pans and stove tops.
Show them what is OK to touch and which items could harm them. Kitchen rules could cover washing hands and not touching dangerous items like sharp knives and stove knobs or power points.
Be OK With Getting Messy;
Cooking with kids is always going to take a little longer and can get (very!) messy. Set up a space at the bench for them and dress them in clothes that you don't mind getting food on. To protect their clothing, you can consider using an apron, like the ones you can get here. Let all of the fun and mess happen and worry about the clean up when you are finished.
Cooking and Learning;
Cooking with your kids is a great opportunity for them to learn not only about food, but also about counting, language and measuring. It can develop their fine motor skills and grow their confidence and independence, as well as giving them a real sense of achievement! As they get older and more confident, you can read through the recipe together, count and measure ingredients and step back a little more to give them more independence.
Let them be hands on;
Young kids are very hands on and love to learn by touching and tasting. Don't step in unless you have to.
Encourage adventurous taste buds by allowing them to taste test different ingredients and flavours. With your help, they will learn about different ingredients and whether they are safe to eat raw or need to be cooked first.
Talking;
Talk through the recipe together before you start. Depending on your child's age and level of understanding, either explain what you are making and the steps involved, or have your child read through the recipe themselves and help prepare the required ingredients.
Cooking with toddlers (2-4);
Toddlers like to explore with their senses and love to touch and taste. They have very short attention spans, so it's best to choose a recipe that doesn't involve many steps or take a long time to complete. Consider starting with a simple recipe with five or fewer ingredients.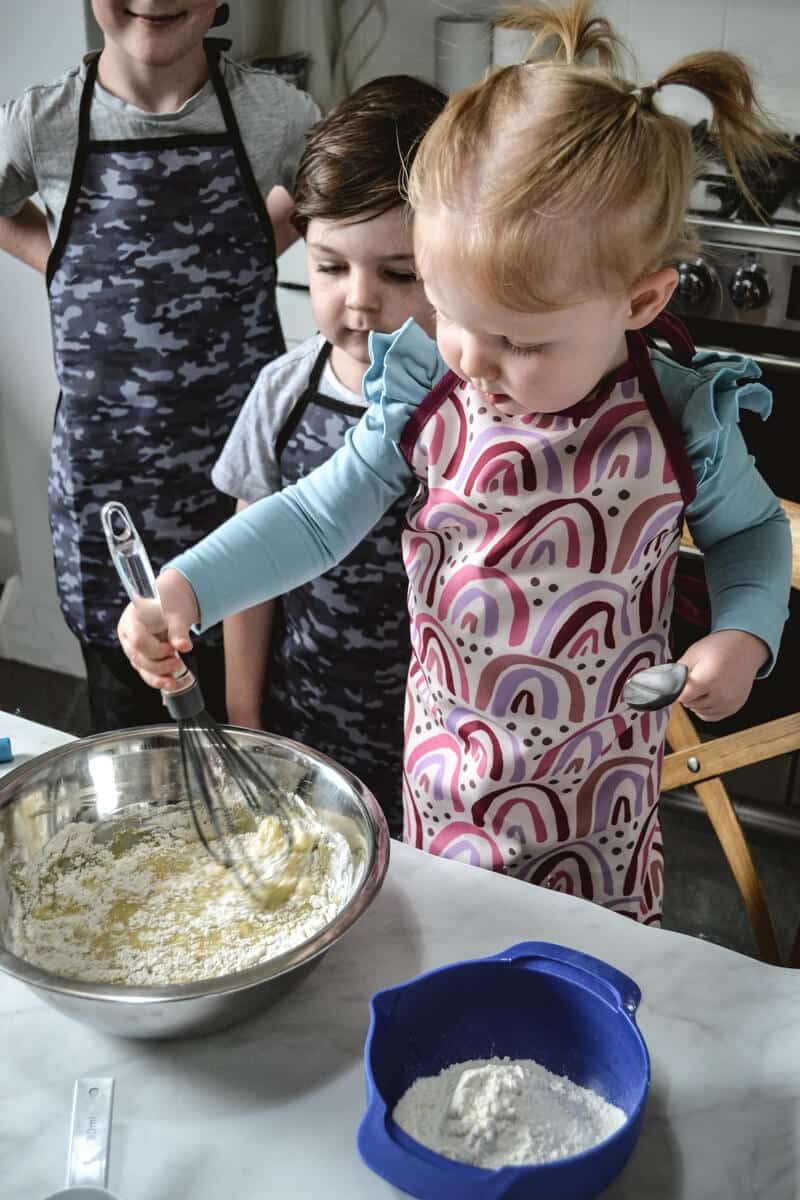 Try letting them;
Some great recipe ideas to cook with toddlers are;
Cooking with pre-schoolers (5-6);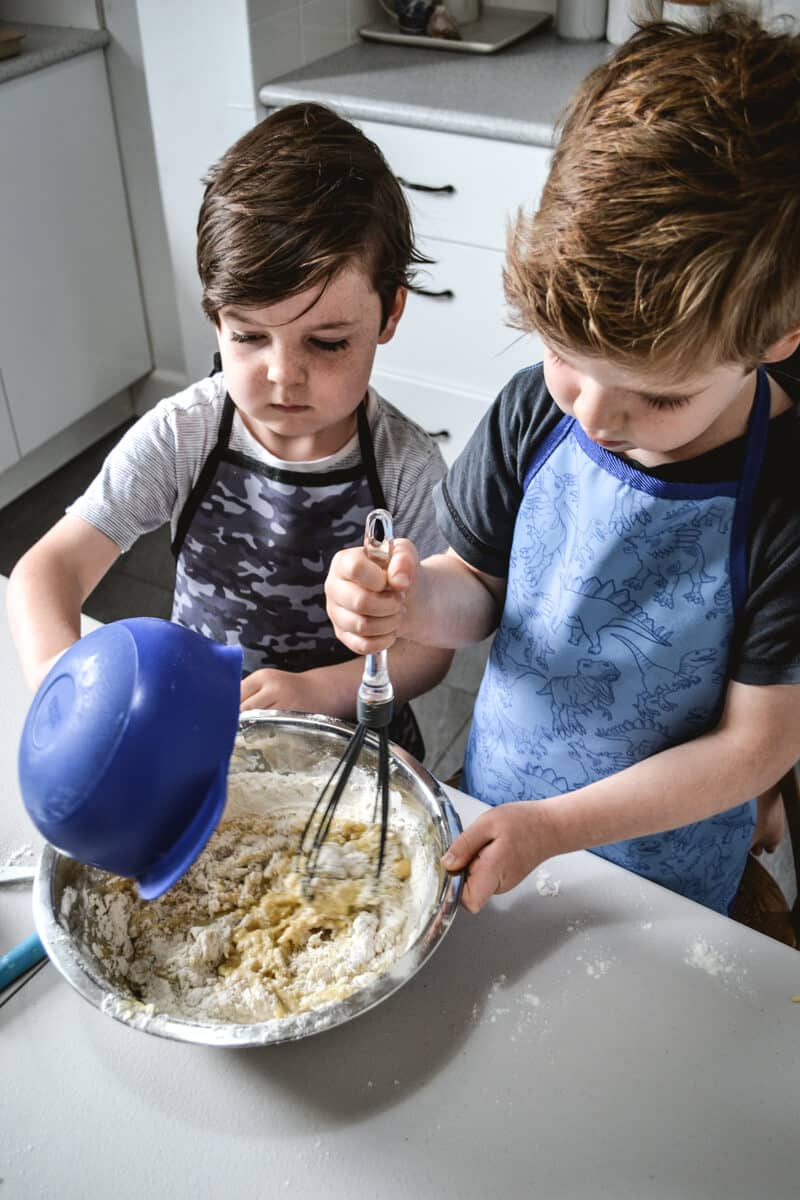 Pre-schoolers are a little more able to follow directions (even if just for a short time!) at this stage. Skills can of course very at this age, so choose recipes and activities that suit your child.
At this stage, your kids may be ready to;
Some great foods to make with 4-6 year olds;
Cooking with Primary School Aged Kids (6-12);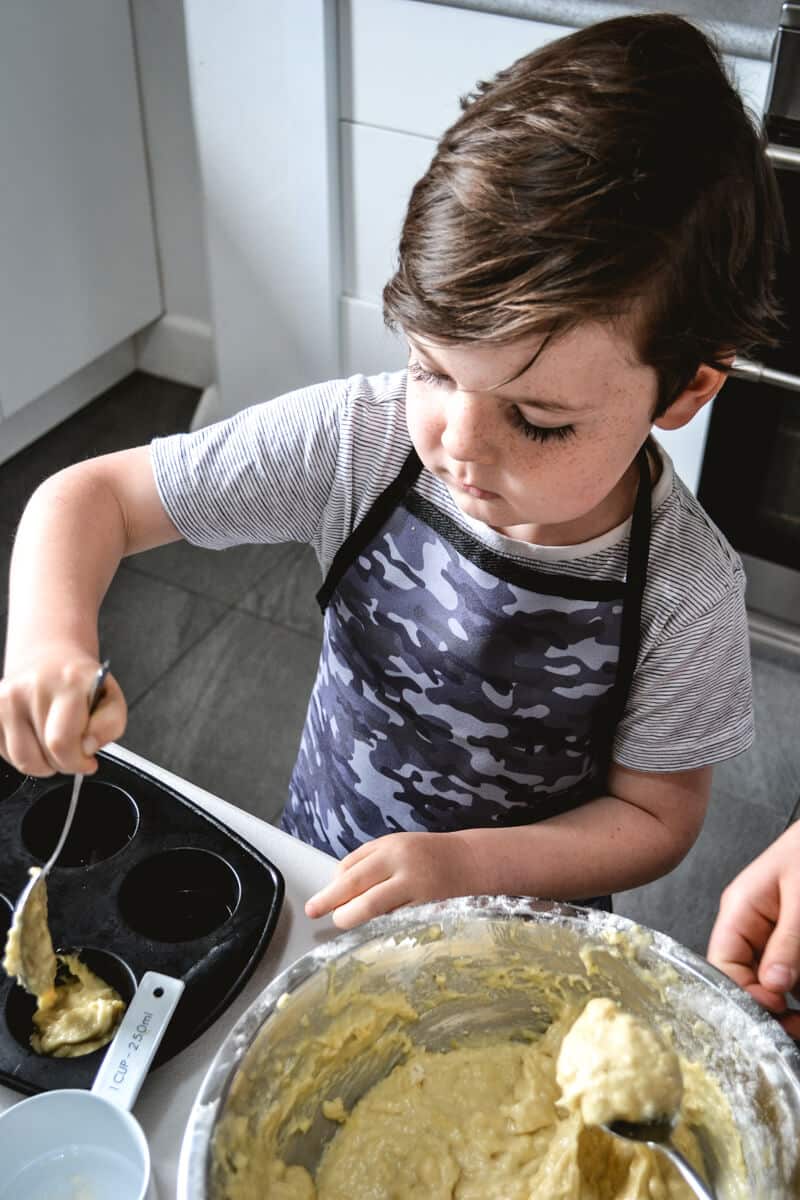 As your kids start to get a little older and their cooking skills develop, they can start to be more involved in the cooking process and undertake some roles with less guidance. There are a lot of hazards in the kitchen, so be sure to still supervise around hot temperatures and sharp objects. Step back and allow them to complete tasks on their own where possible.
At this stage, your kids may be able to;
Some great foods to make with your primary school child;
Cooking with Teenagers;
Along with all of the skills developed during the earlier stages, teenagers can gain independence in the kitchen and begin to make more complex recipes. This is the perfect time to be teaching some basic go-to recipes and skills to set them up for adulthood. They could even start a collection of their favourite recipes for easy, healthy meals on a budget. A good education around food and cooking equips them to make healthier food choices later in life.
Some recipe ideas for your teenager to try independently;
Hopefully this guide helps you to get into the kitchen and cooking with your kids. It doesn't have to be complicated. Set aside some time, choose a recipe together and have fun!
**This page may contain affiliate links. Purchases made using these links may provide a small amount of commission to me (at no extra cost to you).
Tried this recipe? Please leave a star ⭐⭐⭐⭐⭐ rating or leave a review below and let me know how you went!

Hungry for more? Subscribe to my newsletter and follow along on Facebook, Instagram and Pinterest for the latest recipes and news.