The Cooking Collective has got you covered! Find all of the very best salad and dessert recipes to try for your next Christmas feast… From pumpkin salad and edible Christmas wreaths to classic pavlova and chocolate truffles. Browse my collection of popular, easy and delicious recipes – salad for Christmas lunch and dinner and amazing desserts to finish. Merry Christmas!
The best Christmas salad for lunch or dinner;
Christmas is a time of celebration, fun and family. And of course, food! Whether you are hosting your own lunch or dinner, or you need to bring a salad to a festive gathering, try these simple Christmas salad recipes. This collection of simple and delicious Christmas salads are sure to make everyone very happy!
Roasted Pumpkin, Goats Cheese and Rocket Salad.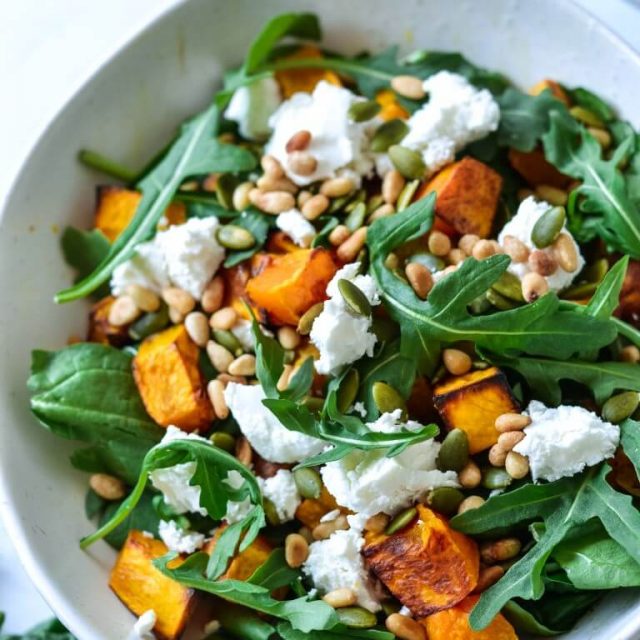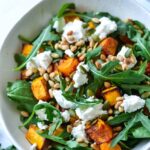 You will be amazed at how easy this salad is to make. Firstly, some sweet, caramelised roasted pumpkin is tossed together with lovely soft and creamy goats cheese and peppery rocket. The salad is then tossed together with some crunchy, earthy roasted pine nuts, pepitas and a dash of olive oil. A perfect salad for Christmas lunch or dinner!
Easy Italian Style Pasta Salad with Salami.
Delicious and refreshing, this salad is packed full of antipasto classics like sun dried tomatoes, marinated capsicum, olives and salami. Loaded with fresh herbs and coated in homemade Italian dressing. A lovely and simple Christmas salad.
Creamy Potato Salad with Homemade Dressing.
This creamy potato salad with homemade dressing is the perfect side dish for parties, BBQs and Christmas gatherings. It is super creamy and absolutely packed full of flavour- and once you taste it, you'll never go back to bottled dressing!
Summer Strawberry Salad with Baby Bocconcini from The Devil Wears Salad.
This Summer Strawberry Salad with Baby Bocconcini And Rocket by The Devil Wears Salad is perfect for outdoor BBQs and make a stunning salad for Christmas lunch or dinner. The sweetness of the strawberries is paired with creamy bocconcini and an aged balsamic vinegar.
Christmas Salad Recipe from Sweet Caramel Sunday.
With simple ingredients and step by step instructions, this delicious Christmas salad recipe by Sweet Caramel Sunday is full of ALL the Christmas flavours!
Smoked Salmon Wreath from It's Not Complicated Recipes.
This smoked salmon wreath makes a quick, easy and elegant starter! Made with smoked salmon as the star, with peppery radish, cucumber, lemon, capers, dill and spring onion, this salad wreath will make a stunning centrepiece for your Christmas table.
Watermelon Salad with Basil and Mozzarella from Mrs Jones' Kitchen.
This super easy watermelon salad with basil and mozzarella from Mrs Jones' Kitchen is the perfect summery, Christmas day salad. Light, refreshing, and – perhaps most importantly on a hot day – no cooking required!
Caprese Christmas Wreath from It's Not Complicated Recipes.
Despite being a simple Christmas salad, this caprese wreath still provides "wow" factor and contains beautiful Italian flavours of fresh tomato, bocconcini and basil. It looks so pretty too,  perfect to use as your table centrepiece.
Christmas Dessert Ideas;
And now that you've had Christmas dinner, it's time for dessert! For a showstopping end to your Christmas celebrations, try this collection of the best Christmas desserts!
Summer Pavlova with Mango and Passion Fruit Curd.
Pavlova would easily have to be one of Australia's favourite desserts! This classic Australian pavlova recipe is utterly delicious. And as a bonus, it is super easy to make.
With a crisp, slightly chewy outer shell and a soft, fluffy marshmallow centre, this much loved Aussie dessert is taken to the next level by adding billowy whipped cream, sweet and tangy passion fruit curd and fresh mangoes.
4 Ingredient Chocolate Mint Truffles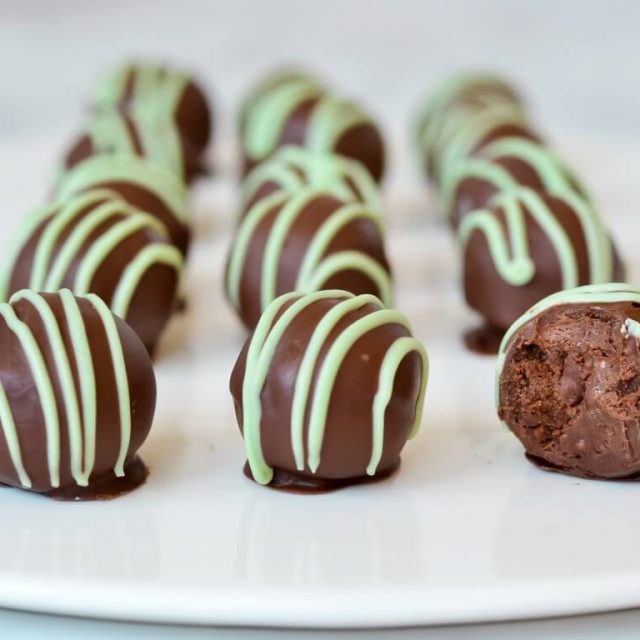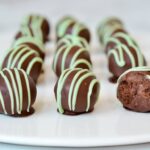 Chocolate + peppermint is such a delicious, classic flavour combination! If you are a lover of all things choc mint, then these decadent 4 ingredient truffles made with after dinner mints are for you. The perfect finish for after Christmas dinner. You can also give them away in boxes as a Christmas gift!
No Bake, Simple Banoffee Pie.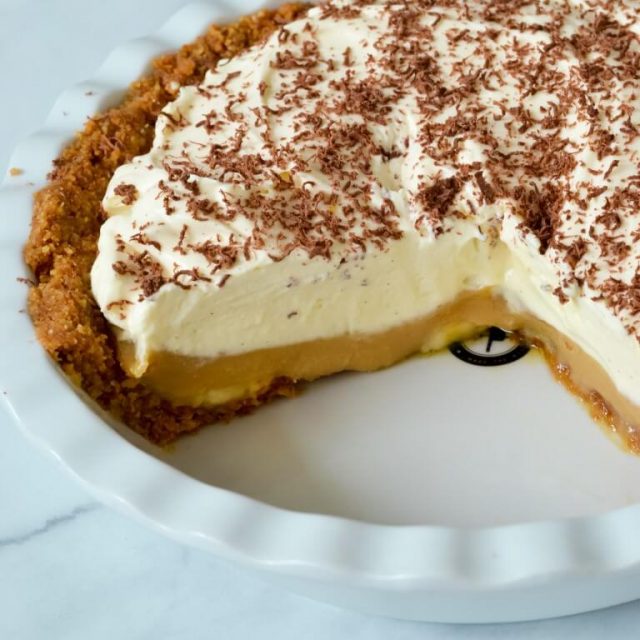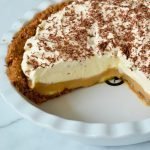 This simple, no bake banoffee pie has layers of buttery biscuit base, thick and sweet caramel, slices of fresh banana and a cloud of soft whipped cream. An easy, delicious no bake dessert that is sure to be an instant crowd pleaser! This is truly one of the best Christmas dessert recipes.
3 Ingredient Christmas Pudding from Bake Play Smile.
How easy is this! Introducing the famous 3 Ingredient Christmas Cake (fruit cake) by Bake Play Smile. Made using only mixed fruit, iced coffee and self-raising flour- If you are looking for easy Christmas dessert ideas, then this is it!
Choc Mint Brownies from Eight Forest Lane.
How amazing do these gluten free choc mint brownies by Eight Forest Lane look! Based on a dark chocolate brownie recipe, with a little peppermint extract added for that special Christmas twist. Topped of course with crushed candy canes for that little bit of crunch. Christmas dessert, sorted!
Caramilk White Christmas Slice from Chef Not Required.
As if chocolate Christmas slice wasn't delicious enough, check out this Caramilk White Christmas Slice from Chef Not Required! A traditional Christmas classic with fruit, nuts, coconut & puffed rice, using Caramilk chocolate in place of the usual white chocolate. Also a great dessert to make with kids!
Christmas Ice Cream Pudding with Chocolate and Hazelnuts by Marcellina in Cucina.
This easy ice cream pudding by Marcellina in Cucina is the perfect end to a Christmas meal. This recipe requires just a few store bought ingredients to create a delicious dessert that appeals to all. This easy Christmas dessert recipe contains all the good things – ice cream, chocolate and nuts.
Red Velvet Doughnuts from Sugar Salt Magic.
An easy baked doughnuts recipe is great any time of year! But these Red Velvet Doughnuts are fun and festive too. Yeast-free, these doughnuts only take 9 minutes to bake and are much quicker than traditional doughnuts. Perfect for Christmas dessert finger food.
Florentine Cookies with Dark Chocolate by A Baking Journey.
These easy florentine cookies dipped in dark chocolate are the Christmas cookie recipe you didn't know you needed in your life! Chewy yet crunchy, sweet and slightly bitter, they are the best sweet treat for the holiday season (and for the rest of the year!).
Berry Salad with Sumac Dusted Meringues by The Devil Wears Salad.
And now, how about a salad that is also a dessert! Try this berry salad with sumac dusted meringues by The Devil Wears Salad. A delicious fruit salad with delectable meringue is sure to please everyone at the Christmas table. 
Thanks for reading! If you try any of these desserts or salads for Christmas lunch or dinner, I'd love to hear about it! Feel free to leave a comment or review below, or send me a message. For more food inspiration, tips and to share your own recipes and creations, head over to my Facebook Recipe Group. 
Are you following us on Facebook, Instagram and Pinterest?
Subscribe to The Cooking Collective to have more beautiful recipes delivered straight to your inbox.