This healthy 5 minute hummus recipe is fast, delicious and easy. Hummus is a delicious dip made with chickpeas, tahini, garlic and lemon. Perfect for entertaining, platters, parties, packed lunches, healthy snacks – just about anything!
Made in a food processor using only natural ingredients, this creamy and light hummus can be ready in five minutes!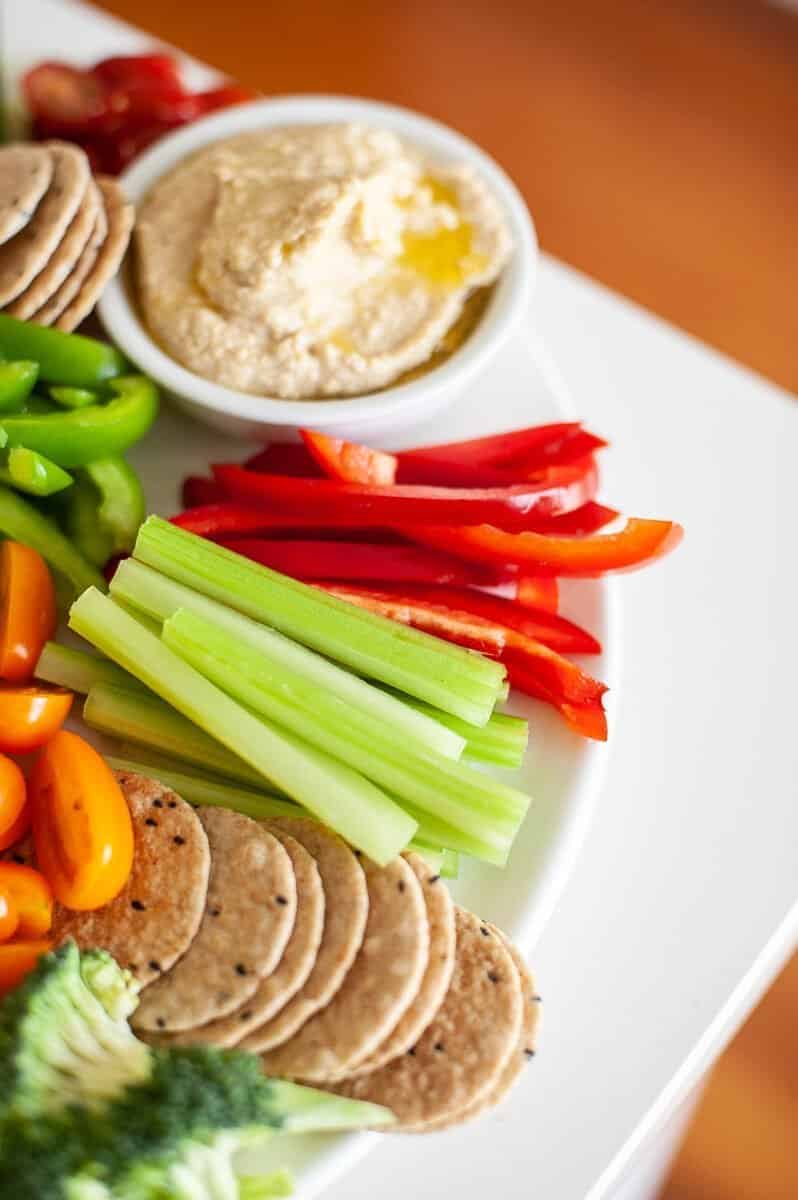 The ingredients;
You can use canned or cooked chickpeas in this recipe. Home cooked chickpeas are tastier, but canned are more convenient. Chickpeas are high in protein and a rich source of fibre, as well as magnesium, folate and Vitamin B-6.
Tahini is a paste made from hulled or unhulled sesame seeds. It is such a delicious and healthy ingredient and contains more protein than milk or nuts! It is also rich in B vitamins. You can find tahini in the health food section of most supermarkets. It is also available in health food stores. Or, you can make your own.
Fresh lemon and garlic are best in this recipe. I use raw garlic for the sharpness and spice, but if you prefer, you can use roasted garlic. Olive oil gives the hummus a lovely consistency and adds flavour. I drizzle a little over the top when serving too.
The best thing about this recipe is that it's so fast and easy. The ingredients all get thrown together into a food processor or blender. Whizz it up for a few minutes, drizzle in the olive oil and you have the most delicious, healthy snack.
This healthy 5 minute hummus recipe can be made ahead and stored in the fridge in an airtight container for 4-5 days. Add to school or work lunches in little tubs with chopped veggies, crackers, corn chips, Turkish bread, pita bread or sandwiches.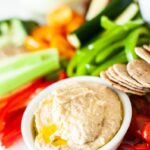 Ingredients
2 x 400g canned chickpeas

1/4 cup reserved liquid from the chickpeas

3 tbs tahini

2-3 garlic cloves, peeled and crushed

100ml olive oil

juice of one lemon

salt and pepper
Instructions
Place the chickpeas, reserved liquid, tahini, garlic and lemon juice into a food processor and blend for 1-2 minutes, until smooth.
While the food processor is still running, slowly drizzle the olive oil in and blend until combined.
Season with a generous amount of salt and pepper (to taste). Enjoy!
For more lunchbox inspiration, check out these recipes. For tips on time saving and bulk baking school lunches, see this post here.
Are you following us on Facebook, Instagram and Pinterest?
Thanks for reading! Subscribe to The Cooking Collective to have more beautiful recipes delivered straight to your inbox.