Party food doesn't have to be unhealthy! Try these tips and healthy recipes below and I will show you how to throw a healthy kids party with food that tastes as good as it looks!

The words 'healthy' and 'kids' party' are not words that you normally hear together! When you think of birthday parties for kids, usually images of sugar, cakes, lollies and fizzy drinks immediately appear.

Parties can often be a time when children are overloaded with unhealthy treats and sugar. Your little ones can be faced with array of processed foods which are packed full of chemicals, additives, colours and preservatives. Foods that leave them all hyped up and sick with tummy aches, followed by the inevitable (and much dreaded) sugar crash! Packaged foods are quick and convenient, but you don't get a say about what goes into them.

Party food doesn't have to be unhealthy to be enjoyed!

Little bodies are not made to have a total of several days of calories, sugars, additives and artificial colours put into their bodies in such a short time. And, kids can find it hard to know when to stop (or make healthy choices). Especially when standing in front of an endless supply of enticing party treats!

Don't get me wrong, I have the world's biggest sweet tooth. I'm not saying kids' parties should be boring, all carrot sticks and apples, or completely free from treats. That's not fun for anyone!

Using some healthy alternatives to traditional party foods, these healthy party food recipes and tips show you just how easy it is to have a colourful, exciting and delicious celebration without the sugary foods, additives and saturated fats. And the result will be kids with happy, full tummies and no sugar crash that have thoroughly enjoyed their day!

Tips for throwing a healthy kids party;

Serve familiar food. (Recipes below!)

At parties, kids will expect to see some familiar party foods. So now is not the time to be making drastic changes to the traditional party food table! Write down a list of familiar foods that are normally found on the table at a kids' party. For example, sausage rolls, party pies, chips/crisps, fairy bread, savoury foods, cakes, sweets and lemonade.
Think about how many sweet and savoury party foods you would ideally like to serve and how many guests you are inviting. Once you have your list, consider swapping some or all of the foods to similar, healthy alternative recipes. A list of healthy party foods can be found below. And, there are countless healthy party food recipes online to suit most tastes and budgets.

Make a list.

Using the list you have prepared, make a shopping list of the ingredients and items that you will need. Consider which recipes could be made ahead of time and frozen, ready for the big day.

Source natural alternatives

Cutting out additives, refined sugars and preservatives doesn't mean your kids can't have beautiful foods, cakes and desserts! Natural alternatives can be found for most of the ingredients you need. For example, Hopper Foods make all natural food colouring, sprinkles and 100's and 1000's. Give them a try to decorate cakes and sweets, minus the nasty additives! You can also source natural colours, flavours and healthy treat ingredients in supermarkets and health food stores.

Start prepping ahead of time

To save time leading up to the party, consider which foods can be made ahead of time and frozen until required. Look at the foods that can be pre-made in batches and which ones need to be prepared the day before. Preparing in bulk leading up to the event makes the day of the party super stress-free. And, it means that most of the work is already done! Foods like healthy bliss balls, pizza scrolls, sausage rolls and more can all be made ahead and frozen. This saves so much time and stress on the day.

Consider a Do-It-Yourself table


Kids love to have fun with food! Make a spread of healthy pancakes with fruity toppings that they can mix up and assemble themselves. Try a DIY taco, burger or wrap building station with loads of sliced veggies and salads. Or build your own pizza or sandwich stations.

Keep your party spreads as colourful as possible! Fruit and vegetables are a great way to do this. Kids will love fruit or vegetable kebabs with brightly coloured dips, so fill your table with as many brightly coloured options as possible.

It doesn't have to be perfect

Don't put too much pressure on yourself! Making healthy kids party food doesn't mean you have to be completely additive and preservative free. Just a few small changes using healthy alternatives can make a big impact on how little bodies will cope.

**When it came time to update this post with my latest healthy party recipes, I asked my friend Juliana, the founder of Partyora, to share her top tips and tricks for throwing a healthy and eco-friendly kids party too!
Meet Juliana;

I am a people person, lover of life and lover of parties! My husband, Mark and I settled down and began a family. Before we knew it we went from just the two of us to a family of six in the space of 3 ½ years! I love to plan every detail, make the decorations, dress up for the occasion and really celebrate the day. Throwing kids parties is what I enjoy most!


Partyora is your one stop eco-friendly party planning destination. Designed for eco-conscious mums, dads and party planners, to help reduce the plastic waste associated with parties! I created Partyora for those who are sick and tired of seeing all that plastic waste piling up. I want to change the way we think about celebrating and lead by example for my kids. With support from various small Australian businesses and makers of handmade items who share our core beliefs and are here to help you throw your best party!
Juliana's top tips for throwing a healthy kids party;

Fruit instead of lollies.

You can make fruit really fun! Try these ideas as a healthier alternative to sugar-loaded lollies on the dessert table. You could pop some diced fruit onto a wooden skewer to make fruit kebabs or use some simple cookie cutters to make fun shapes for little hands to grab. Trust me, there will be none left!


Have your cake and eat it too!

Instead of overloading the cake table with various desserts and ending up with a heap of cake at the end, have your cake front and centre to ensure it's all eaten up! Try using decorative items you might find around the home, such as vases, crates, baskets or trays to add to your display & create height. You can use toys to match the theme, add your favour bags and some fresh fruit and flowers. So you'll still have the same cake table impact, without all the excess sugar!

Beeswax candles on the cake

What better way than to top your cake with pure Australian made beeswax candles?! They are free from any nasties, look amazing and have a longer burn time than the usual paraffin-laden supermarket birthday candles. Take a look at our range of beeswax handmade birthday candles here.

Non- toxic activities & crafts

There are a wide range of party activities to keep kids entertained so that you can enjoy some of the healthy treats too! Painting with plasters will have them getting creative and make wonderful keepsakes. We also love printable party games for all ages to be able to join in on the party fun. For a quick and easy favourite: set up an activity table with colouring-in sheets and coloured pencils or natural crayons and host your own colouring-in competition which is always a party favourite!

Healthy favours or lolly-free favours
One thing most mothers dread at a child's birthday party is the little lolly bag filled with chocolates, lollipops and more lollies! If your child takes home useful favours, they would play with it longer and it would be so much healthier! It's no secret, kids love gifts and favours and at Partyora, we have sourced some of the best party favours and party bags;
Personalised natural play dough favours
Pre-filled organic lolly favours with non-toxic tattoos
Pre-filled plaster favours with paints and wooden brushes
Party favour kits (make your own bath bombs & seed kits)
Fabric reusable favour bags, some filled with little crafts + more.

Try these party food ideas;

Savoury party food ideas;

Mini Pizzas. Use homemade pizza bases, or save time by using wholemeal pita bread bases. Top with tomato paste, low fat cheese and veggies. Mini pizzas can be made ahead and frozen, ready to re-heat in the oven when required.
Veggie and snack grazing platter with loads of healthy dips, savoury muffins, rice crackers, flat bread and biscuits. Healthy dips in different colours are a great way to incorporate veggies into your kids' tummies. Ingredients like avocado (guacamole), chick peas (hummus), tomato salsa are all healthy dipping choices.
Sandwiches and wraps. Wholemeal and grain breads with loads of healthy fillings.
Healthy home made sausage rolls. Cut out the preservatives and tonnes of salt by making your own. Try adding pork or chicken mince as a healthier alternative to sausage mince and add your favourite chopped veggies.
Sliders or mini hamburgers. Homemade burger patties with minced beef or chicken, on bread rolls with loads of chopped salads. Let kids make their own burgers by setting up buns, meat patties and salads on a table.
Quiches or frittatas.
Mini meatballs and dipping sauce.
Baked sweet potato wedges. Choose an array of toppings like cheese, sour cream, chopped veggies and salsa.
Instead of potato chips/crisps, try serving veggie chips, organic corn chips, sweet potato chips or popcorn.
Veggie nuggets with tomato or sweet and sour dipping sauce.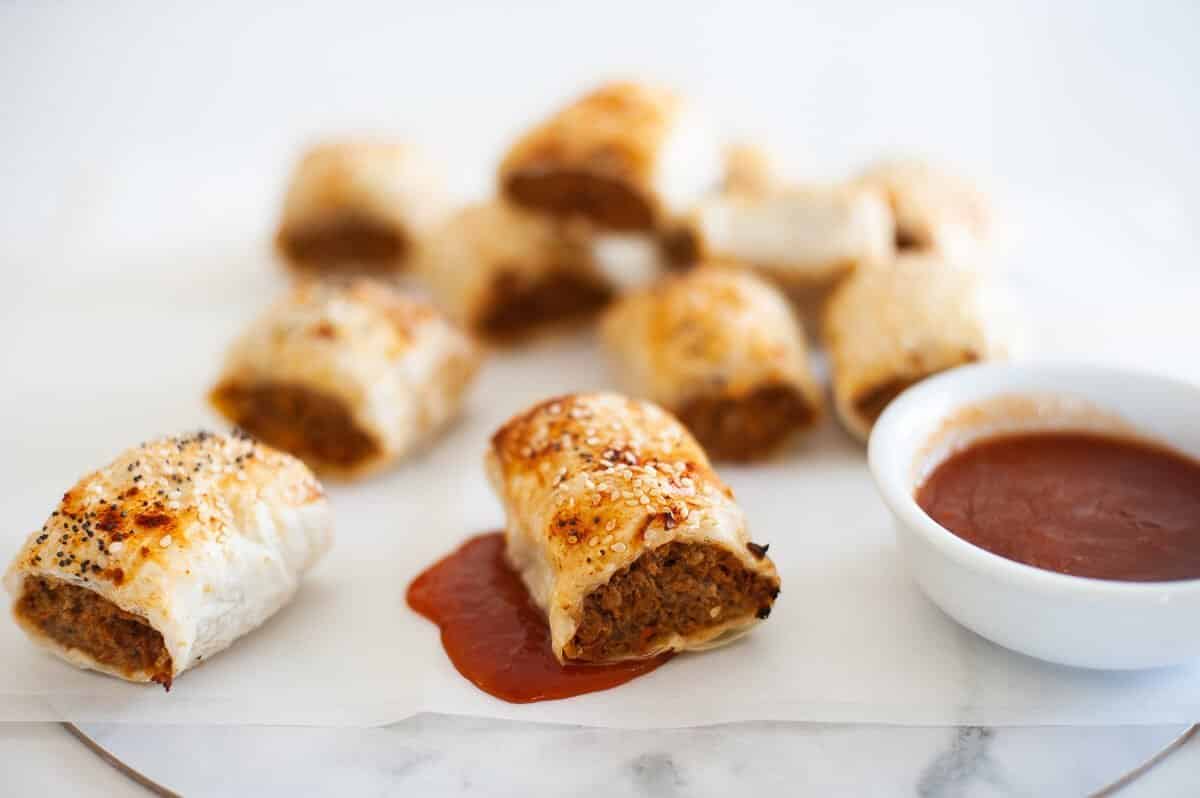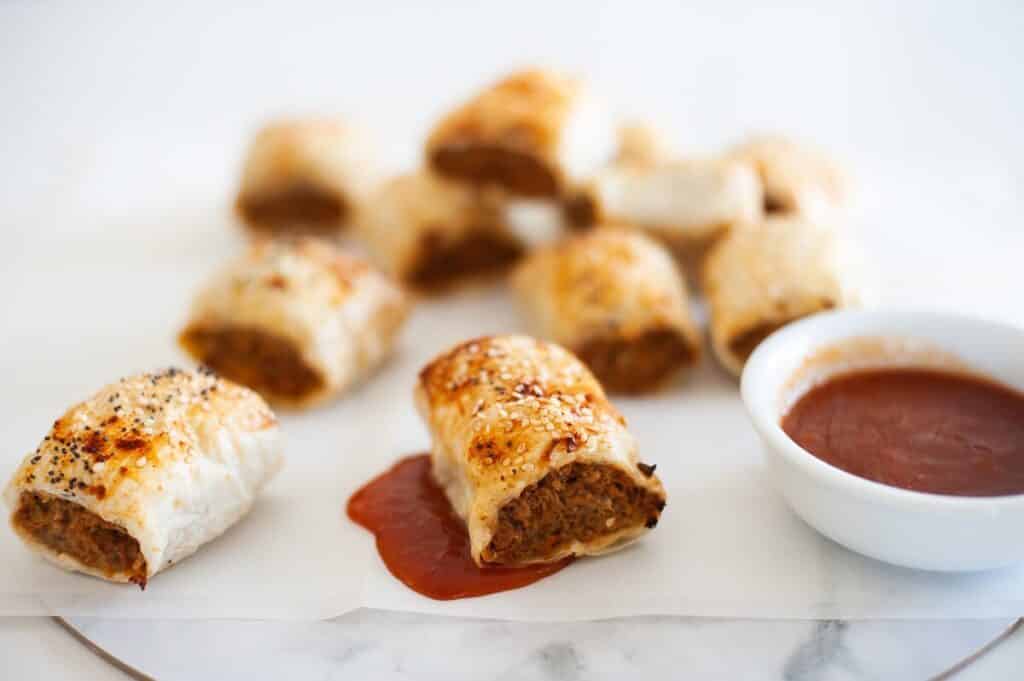 Sweet party food ideas;
Make a colourful fruit and sweets platter! Top it with healthy dips like chocolate avocado and bliss balls, slices, frozen chocolate coated banana pops, mini banana muffins, chocolate zucchini muffins and anything else!
Fruit kebabs. Load lots of fruit like strawberries, bananas and watermelon onto wooden skewers. You could also add marshmallows or a sweet dip like the chocolate avocado one above.
If your party is in the summer, serve home made icy poles with fruit and yoghurt.
Healthy chocolate crackles or honey joys.
Healthy Chocolate Sweet Potato Brownies. These rich, chocolatey brownies actually taste like the "real thing", but only contain healthy ingredients. Kids (and grown ups) won't be able to tell the difference!
Try making some raw bliss balls like these chocolate, raspberry or caramel. Little balls make the perfect finger food for busy kids!
Mini pots of chocolate chia pudding topped with fruit, grated dark chocolate or sugar free berry jam.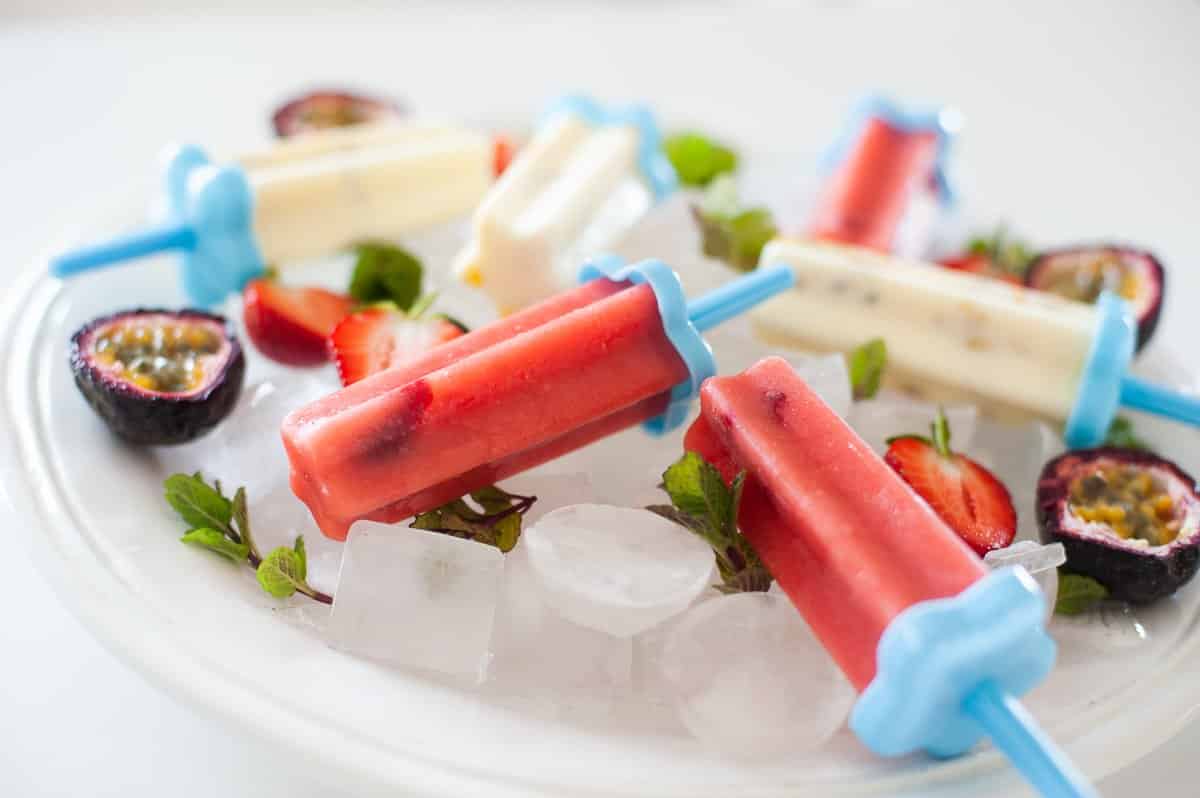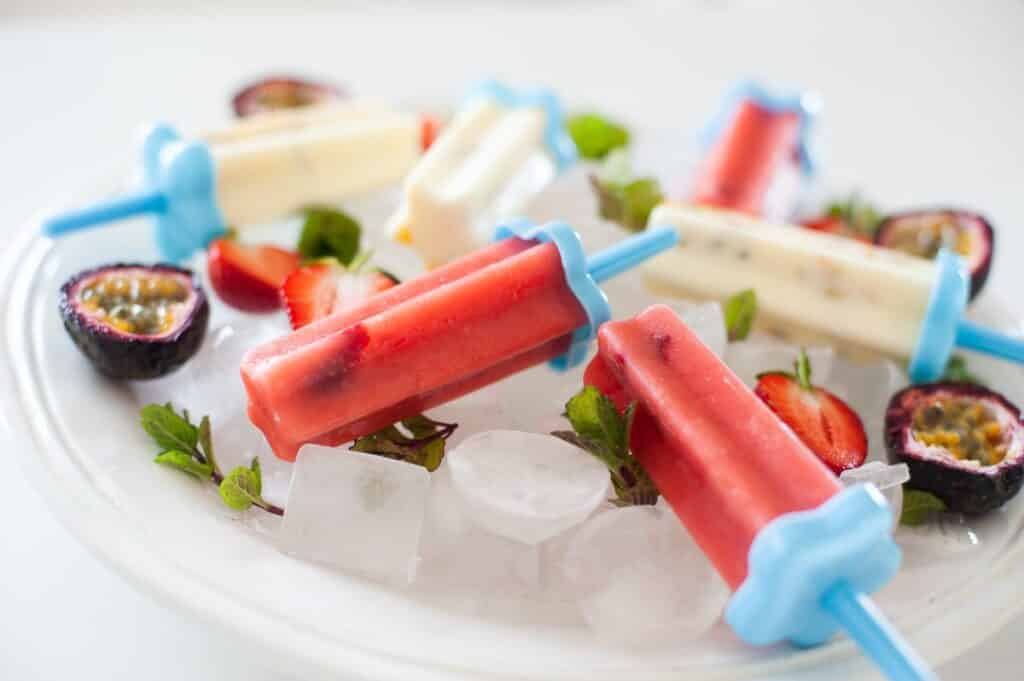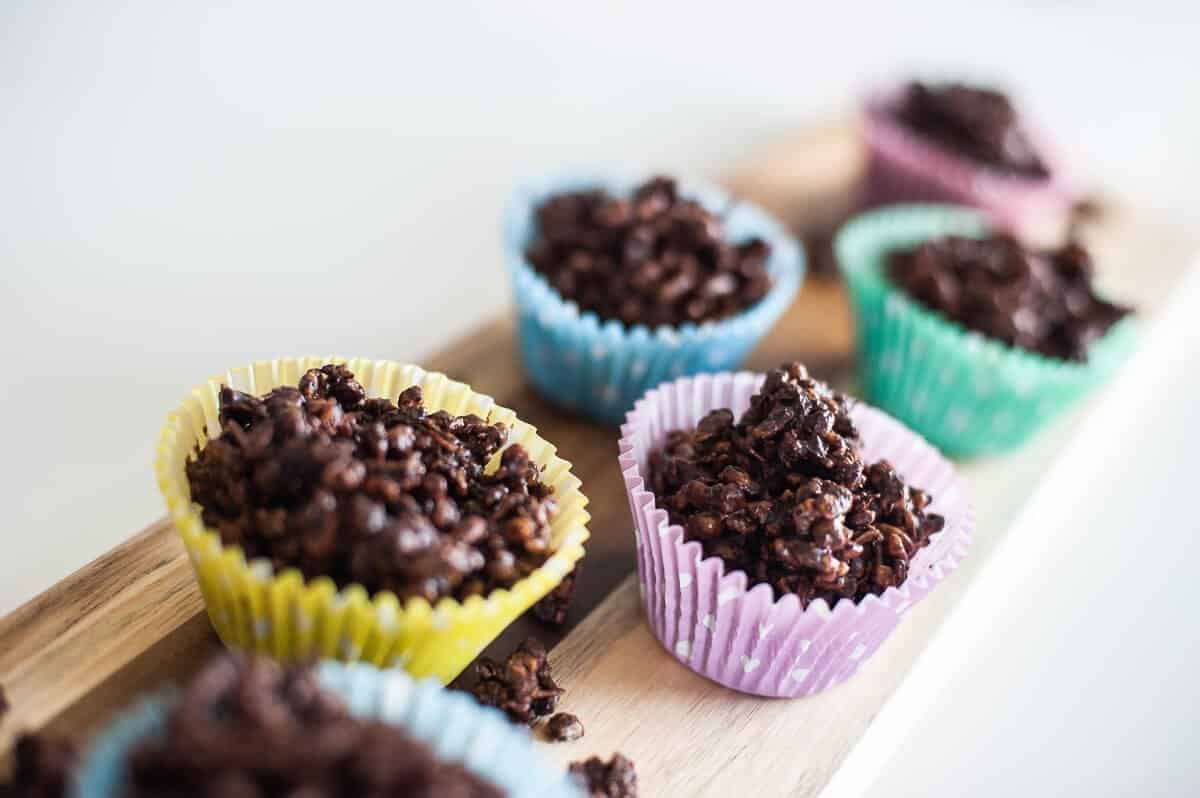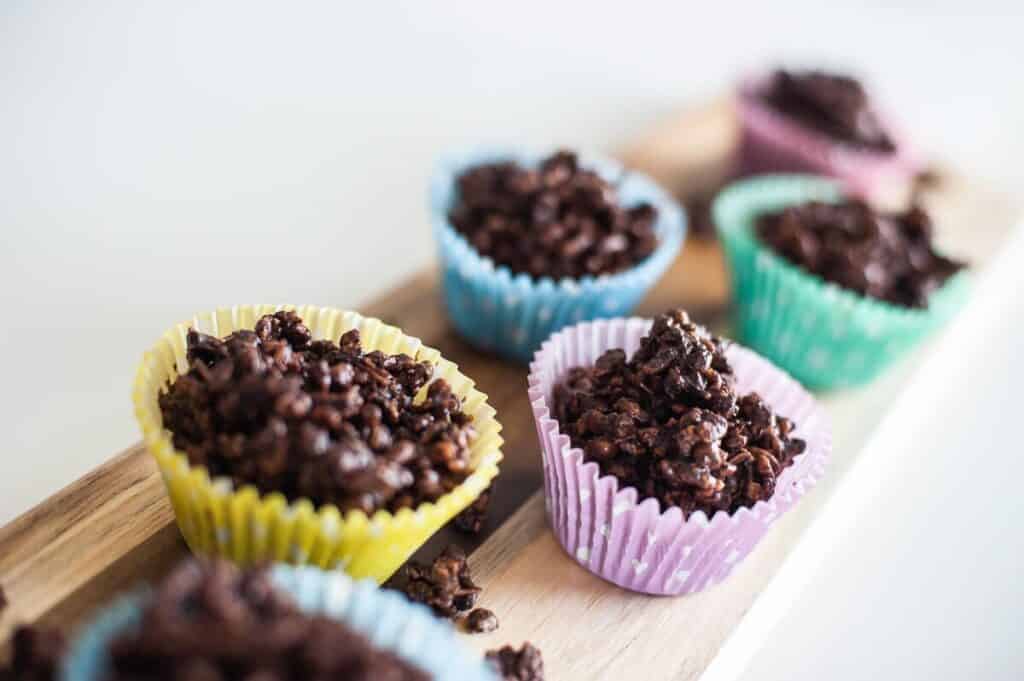 Refreshments

Rather than serving fizzy drinks full of colours and preservatives, try serving an easy punch. A simple recipe can be made by mixing fruit juice, sparkling mineral water and loads of fruit and ice. You could even make your own homemade lemonade to add the lemon concentrate to mineral or still water. If you don't want to use sugar in your lemonade, stir through a natural sweetener such as honey, maple or brown rice syrup instead. Or, give each child a reusable, labelled water bottle to drink throughout the day.

Colourful ice-blocks with fruit are also an easy and fun way to add flavour to water, without the colours and refined sugars.

Party Bags

On top of a great birthday party with loads of food, parents often feel pressured to send kids home with party bags full of even more sweets! You don't have to forego the beloved party bags, but there are loads of alternatives to just lollies that are much better for tummies and for the environment.
Some great ideas to put in your kids' party favour bags:
Birthday cake
Natural Confectionery Co. Lollies
Bubbles
Sticker books
Temporary tattoos
Stamps
Drink bottles
Home made play-dough
Activity Books
Pencils
Seeds (the kind you plant!)
Homemade slime
Popcorn

Thanks for reading! I hope these ideas and recipes for healthy kids party food has given you the inspiration and confidence to make a few healthy changes at your next party! If you do try any of these tips, I'd love to hear about it! Feel free to leave a comment or review below, or send me a message. For more food inspiration, tips and to share your own recipes and creations, head over to my Facebook Recipe Group.

Or follow along on Facebook, Instagram and Pinterest for the latest news, recipes and more!