How to Throw a Healthy Kids Party (With Food They'll Actually Want to Eat);
Kids party and healthy food are not words that you normally hear together.
Most kids' parties feature an array of processed foods which are packed full of chemicals, additives, colours and preservatives that leave your little ones all hyped up and sick with tummy aches, followed by the inevitable sugar crash.
For a long time I thought this was how kids' parties should be. After all, most of these foods are "sometimes" foods. They are not consumed all the time and they are considered a fun"treat" for a special occasion.
But, I could see a trend with my boys after attending several parties. I could see how they felt and behaved after having free rein at the party table.
Tummy Aches;
Little bodies are not made to have several days worth of calories, sugars, additives and colours in one sitting. Kids find it hard to know when to stop (or make healthy choices) whilst standing in front of an endless supply of enticing party treats!
My boys also became physically sick on more than one occasion after overindulging at the party table and so, I started to make some changes.
Healthy Doesn't Mean Boring;
Don't get me wrong, I have the world's biggest sweet tooth. I'm not saying kids' parties should be boring, all carrot sticks and apples, or completely free from treats. That's not fun for anyone!
When you are planning a kids' party, it is so easy to walk into the supermarket and grab ready made, pre-packaged sausage rolls, chips and other popular party foods from the shelf that you know kids will devour.
Packaged foods are quick and convenient, but you also don't get a say in what goes into them. However, the benefit of making your own party food is that you have control over every. single. ingredient.
With a little forward planning and minimum fuss, it is so easy to make some healthier alternatives that mean that your kids still get the tasty, colourful party food they know and love, but minus the additive overload and sick tummies. Win-win!
Here are my tips to throwing a healthier kids party:
Serve Familiar Foods
Now is not the time to be making drastic changes to the traditional party food table. Write down a list of familiar foods that are normally found on the table at a kids' party. For example, sausage rolls, party pies, chips, fairy bread, savoury foods, cakes, sweets, lemonade. (It doesn't matter if they are unhealthy yet; just make a list of what you'd ideally serve).
Plan Ahead
Using your list of party foods, start to search on Google and Pinterest for healthier alternatives. There are so many recipes online that provide versions of the food you know and love, but with healthier ingredients. Research healthy versions and save the recipes you like. You can also download a FREE copy of my ebook- Healthy and Home Made Kids' Party Food in the box below for some healthier recipes and ideas.
Source Natural Alternatives
Cutting out chemicals doesn't mean your kids can't have beautiful foods, cakes and desserts. There are natural alternatives to most of the ingredients you need. For example, Hopper Foods make all natural food colouring, sprinkles and 100's and 1000's to decorate cakes and sweets, minus the nasty additives.
Start Cooking Ahead of Time
To save time leading up to the party, consider which foods can be made ahead of time and frozen until required. Look at what can be pre-made in batches and what needs to be prepared the night before (or on the day of the party). Preparing in bulk leading up to the event makes the day of the party super stress free and means that most of the work is done.
Consider a Do-It-Yourself Table
You could make a spread of healthy pancakes with fruity toppings that the kids can mix up and assemble themselves. A DIY taco or wrap building station with loads of veggies and salads. Burgers. Or pizza toppings. Anything really!
It Doesn't Have to be Perfect
Don't put too much pressure on yourself. Healthy kids party food doesn't mean you have to be completely additive and preservative free. Just making some small changes can still have a big impact on how little bodies react. Be proud of your efforts!
Here are some great healthy kids party food ideas to make at your next party:
Savoury Food
Mini Pizzas. You can use a home made base or use wholemeal pita bread bases. Top with tomato paste, low fat cheese and veggies.
Veggie and snack grazing platter with loads of healthy dips, rice crackers, flat bread and biscuits. Healthy dips in different colours are a great way to incorporate veggies into your kids' tummies. Ingredients like avocado (guacamole), chick peas (hummus), tomato salsa are all great choices.
Sandwiches and wraps- wholemeal and grain breads with loads of healthy fillings.
Healthy home made sausage rolls– Cut out the preservatives and tonnes of salt by making your own. You can add pork or chicken mince as a healthier alternative to sausage mince and pack them full of veggies.
Sliders or mini hamburgers- home made patties with minced beef or chicken on rolls with loads of salad.
Quiches or frittatas.
Mini meatballs and dipping sauce.
Sweet potato wedges.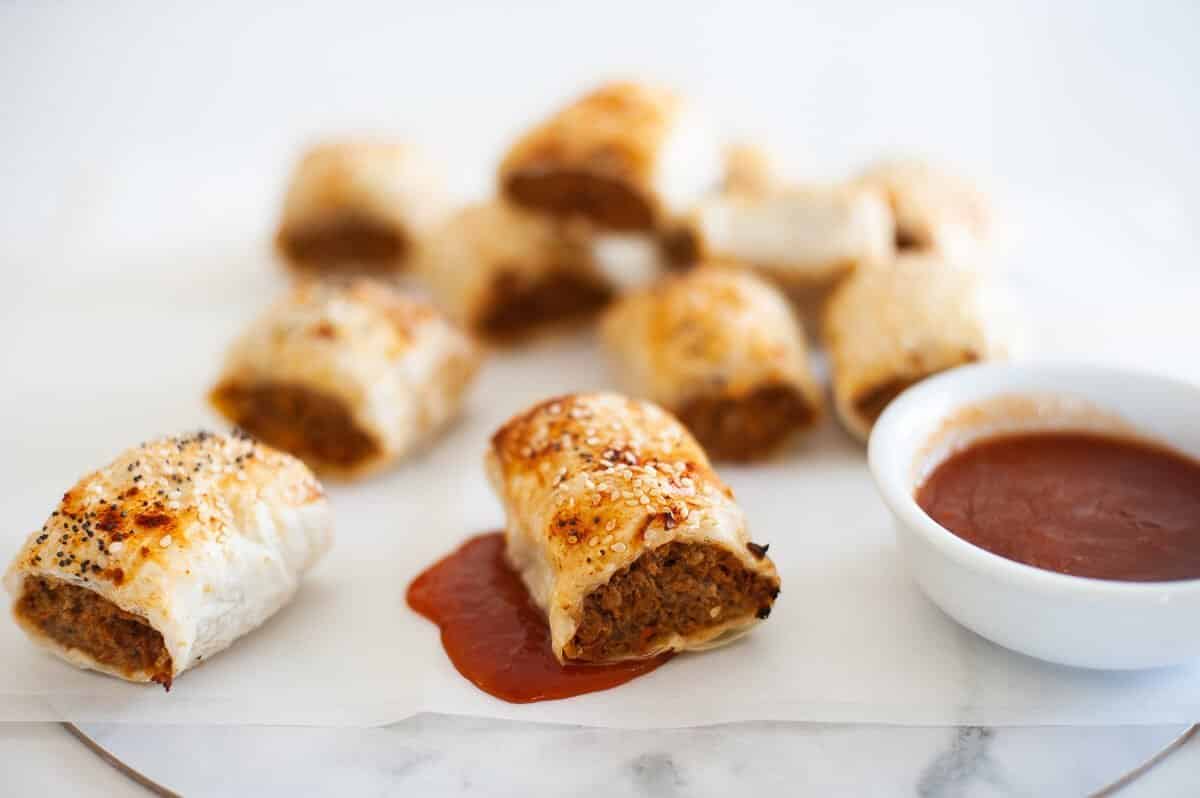 Sweet Food
Make a colourful fruit and sweets platter and top it with healthy sweet dips, bliss balls, raw slices, mini muffins and anything else you like.
Fruit kebabs
If your party is in the summer, serve home made icy poles with fruit and yoghurt.
Healthy chocolate crackles or honey joys.
Healthy Chocolate Sweet Potato Brownies. These rich, chocolatey brownies actually taste like the "real thing", but only contain healthy ingredients. Kids (and grown ups) won't be able to tell the difference!
Refreshments
Rather than serving fizzy drinks full of colours and preservatives, make an easy punch by mixing fruit juice, sparkling mineral water and loads of fruit and ice. You could even make your own Home Made Lemonade to add to mineral or still water. If you don't want to use sugar in your lemonade, there are other great alternatives, such as honey, maple or brown rice syrup, or agave.
Party Bags
On top of a great birthday party with loads of food, parents often feel pressured to send kids home with party bags full of even more sweets. You don't have to forego the beloved party bags, but there are loads of alternatives to just lollies.
Some great ideas to put in your kids' party bags:
Birthday cake
Natural Confectionery Co. Lollies
Bubbles
Sticker books
Tattoos
Stamps
Drink bottles
Home made playdough
Activity Books
Pencils
Hopefully these tips show you that it is possible to throw a healthy and delicious party with food that your kids will actually enjoy!
Are you following us on Facebook, Instagram and Pinterest?
Thanks for reading! Subscribe to The Cooking Collective to have more beautiful recipes delivered straight to your inbox.