I used to love apricot bars as a kid. The tart apricot flavour, the sweetness and the coconut. They were always a special treat in my lunch box. This version tastes like the packaged bars that you can buy in the shops, but is free from refined sugars, additives and artificial flavours.
Adapted from my apricot coconut bliss balls, these no bake apricot chia energy bars contain only good ingredients. Apricots, chia and sunflower seeds, coconut and dates with a little brown rice syrup for sweetness. These bars contain good energy ingredients that will keep your kids (or you) going throughout the day. Perfect for snacks, lunchboxes or to pack for travelling.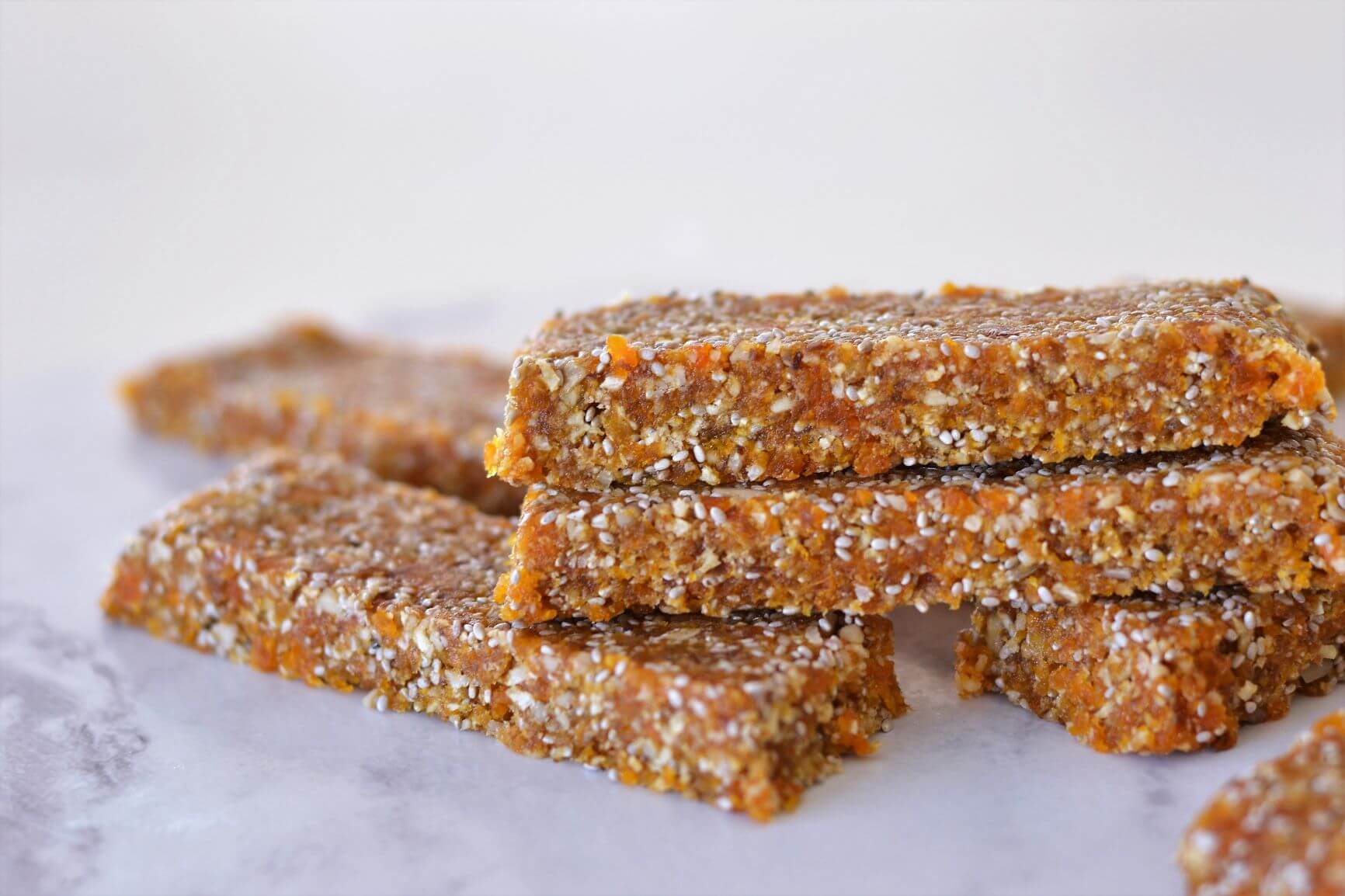 My favourite thing about these bars (aside from the flavour) is that they are no bake! All of the ingredients go into a food processor until combined. Easy!
These delicious bars store well in the freezer too, so they can be made in bulk for quick grab-and-go snacks. Perfect for busy mornings!
Ingredients
10 medjool dates, pitted

1 cup dried apricots

1/4 cup sunflower seeds

1/3 cup chia seeds

1/2 cup shredded coconut

1 tbs brown rice syrup
Instructions
Place all of the ingredients together in a food processor.
Blend on high speed until all of the ingredients are mostly blended and come together. This may take a couple of minutes.
Press the mixture into a lined 20cm slice tin or dish.
Place into the fridge or freezer to set before slicing into individual bars. These apricot and chia energy bars can be stored in an airtight container in the fridge for up to 10 days, or frozen in a container until required.
Some other healthy snacks you may be interested in;
For more lunchbox inspiration, check out these recipes. For tips on time saving and bulk baking school lunches, see this post here.
Are you following us on Facebook, Instagram and Pinterest?
Thanks for reading! Subscribe to The Cooking Collective to have more beautiful recipes delivered straight to your inbox.