Life is busier than ever. These 7 time saving tips for speedy weeknight dinners and delicious recipes have got you covered!
We all have long days. With busy mornings followed by work, school/day care/kinder runs, after school and work commitments and activities, it can be hard to fit everything in.
At the end of the day, you're tired, the kids are tired. The last thing you want to do is to arrive home, stare into the fridge and worry about what to make for dinner.
Supermarket trips at the end of the day take time. And they can also end up very expensive if you shop while hungry.
I lost count of the times we spent staring into the pantry and the fridge, hoping a meal would reveal itself to us! Either we wouldn't have the right ingredients, or we wouldn't "feel like it", or it would take too much time to make.
It would always in end one of two ways. Either we'd settle on something that could be cooked quickly, but wasn't always the healthiest option, or we'd give up and order pizza from up the road.
Follow these tips to make quick and easy weeknight dinners, full of flavour, minus the stress.
1. Plan your meals.  
If you have a busy week ahead, plan your meals ahead of time. It helps with your budget and reduces food waste. Write down the meals you'd really like to eat during the week (do a quick search for recipes if you don't already have them) and prepare a shopping list including ingredients from your plan.
We do a big grocery shop based on our meal plan once a fortnight. We also do a smaller, top-up shop for perishables like milk, veggies and bread the following week. Our meal plan is flexible and can be changed, as some nights we may not feel like what we've written down. In that case, we'll swap it for another meal on the list.
2. Meal prep.  
Spend an hour on Sunday prepping your food for the week ahead. This may sound like a chore, but it's easy and it saves you so much time in the long run. What you prepare depends on the meals you have chosen. But, you can;
Peel, chop and store garlic, onions and veggies
Wash foods
Cut salads and store in an airtight container
Cook some rice/pasta/grains and store in the fridge or freezer
Cut and/or marinate meat
Make some quick, frequently used mixed spices (like burrito seasoning and chicken coating) that you can store in the pantry for immediate use.
3. Keep a well stocked pantry (and freezer). 
With a well stocked pantry and freezer, you will always have countless meals in the making. Having versatile ingredients available as well as a few homemade grab-and-go homemade seasonings can make such a difference.
Here is a list of pantry and freezer must haves;
Pantry; 
Dry pasta, rice, quinoa, cous cous, canned tomatoes, tomato paste, liquid stock, flour, lentils, dried spices (paprika, cumin, cinnamon, garlic, herbs, chilli, etc), fresh garlic and ginger, onions, wraps/tortillas, homemade taco seasoning, homemade chicken coating, canned beans (black, kidney, chickpeas), soy sauce, hoisin sauce, oils (olive, canola, sesame, peanut), tuna, vinegar. Some packets of pre-cooked rice are also handy.
Freezer;
Curry paste, frozen pastry sheets, pita bread (keep frozen for quick and easy pizzas, or make and freeze pizza dough), meat (chicken, pork and beef mince, etc), frozen veggies, bread.
If you have these items in your pantry and freezer at all times, you can throw together a huge selection of speedy meals.
4. Stock your kitchen with some good quality, time saving appliances. 
My pressure cooker is possibly the best thing I have put into my kitchen. It doubles as a slow cooker, but it also cooks a huge range of meals in half the time- and makes them so tender. I use it at least 3-4 times a week to prepare quick family dinners. It also minimises dishes, because everything is prepared in the one easy to wash pot. I use a Philips All-in-One cooker which I swear by. (I'm not getting paid to say this, I just absolutely love it). I also recommend a good quality rice cooker and food processor. I have a Bosch food processor which has so many useful attachments. It gets used most days in my house. They are so worth the investment, as they make cooking easier and will save you SO much time!
5. Double (or triple) recipes.
Whenever you find yourself cooking grains, cook extra. It's just as easy to cook three cups of rice or quinoa or cous cous as it is to cook one. And then, you can store the remainder in the fridge or freezer to add to another meal. Pre-cooked rice makes a tasty and speedy fried rice meal, or a side for curries. If you are making bolognese sauce or lasagne or curry, double the recipe and freeze half to re-heat for a quick weeknight meal. Same with meat. If you are making a roast chicken, add another one to the oven and store the meat in the fridge or freezer to add to a weeknight meal.
6. Pick up a BBQ chicken, or roast your own on a Sunday.
Once cooked, shred the meat and store it in an airtight container in the fridge or freezer.  You can use this meat to make chicken tacos, soups, pastas, salads, or serve it with rice or veggies.
7. Gather a collection of good slow cooker recipes. 
There is nothing better than walking into your house at the end of a long day and dinner is already sorted. There are some great recipes online (for warmer months too) that you can throw into a slow cooker, set and forget.
*Bonus Time Saving Tip- grow your own veggies!
No matter where you live or how much space you have, invest some time and money in a veggie and herb garden to grow seasonal produce. It is so great to be able to walk outside and pick salad ingredients, fresh herbs and veggies- it's such a time saver. You will also reduce waste and you will rarely run out of ingredients. Throughout the year, we have a huge range of produce to base our dinners around.
The great thing is, you don't have to be a professional gardener (or in my case, even a good one) to create your own veggie and herb gardens. To help you get started, have a look at Family Garden Life for some fantastic tips on building your own gardens, kid friendly edible plants (and getting the kids involved in the process) and which veggies to plant. I highly recommend having a look there before you begin.
Below, you will find some quick and easy weeknight dinners that your family will love;
This easy ramen soup with pork mince is flavoured with ginger, miso and soy sauce. It is absolutely delicious and can be put together in 20 minutes flat! It makes the ultimate winter warmer and healthy comfort meal.
This slow cooked beef ragu is rich, tender and so full of flavour. It can be made in a slow cooker or pressure cooker- you can throw everything into the pot in the morning and come home to a delicious dinner! Beef cheeks are a cheap cut of meat too, but when cooked properly, they are melt in your mouth tender. Your whole family will love it.
Chicken tacos make a regular appearance in our family dinner rotation, because they are so quick and easy to make. They are also a great way of getting the kids to eat their veggies. My kids build their own and are more likely to eat their vegetables this way. This recipe can be prepped ahead of time for faster assembly on a busy night. Or, you can add some cooked chicken and Mexican seasoning, (or use store bought BBQ chicken to save even more time) to some soft tortillas. Add your favourite toppings; spinach, shredded cheese, capsicum, tomatoes, cucumber, avocado, grated carrot and herbs. And add your favourite sauce. A great sauce combo is 1 cup kewpie mayo mixed with 1-2 teaspoons of sriracha chilli sauce. Sweet chilli and sour cream or salsa and guacamole is also delicious.
Although homemade gnocchi is completely delicious, after a busy day this ten minute gnocchi cooked in brown butter with crispy sage and bacon hits the spot. It is a little bit fancy and just so easy to make. Add a little cooked sweet potato for a dish the whole family will love.
This warm Greek lamb salad is so delicious. Serve on its own with tzatziki, or for a more filling meal, add some tortilla wraps or make some homemade flat bread. (The dough can be made ahead of time). For the flat bread, add 250g natural or plain Greek yoghurt in a food processor. Add 250g self raising flour, 1 tsp salt and 1/2 tsp baking powder and blend until a dough forms. Knead on a lightly floured surface until smooth. Roll the dough into 6-8 portions and roll flat. Add each flat bread to a lightly oiled pan on medium heat, cooking each side for two minutes or until browned. Fast and easy. Yum!
This chicken and cashew stir fry is a super quick and healthy weeknight dinner. It can either be made in a wok or frying pan, or can be put in a slow cooker, ready for when you return home at the end of the day. The sauce and veggies can be prepared ahead of time to make an even speedier dinner.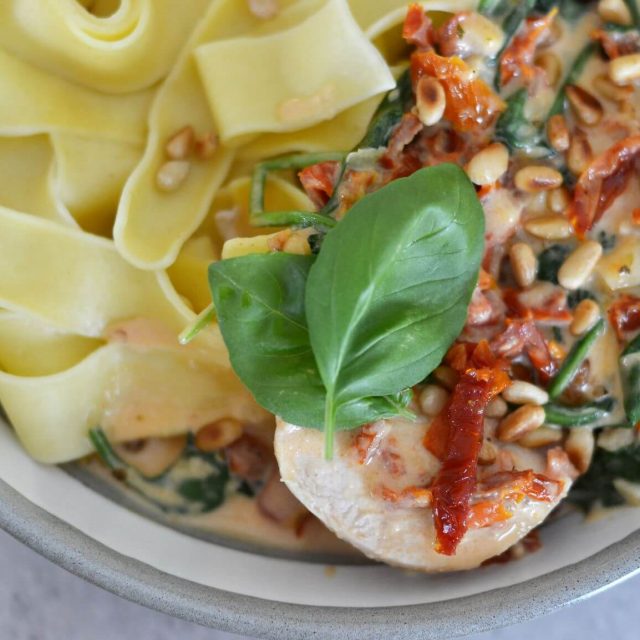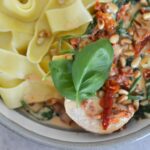 This pasta is so unbelievably good. The best thing is, the sauce can be whipped up in the time that it takes for the pasta to cook, meaning it can be ready in less than 20 minutes. It's also a really affordable and filling meal. You can make it even faster by using pre-cooked, shredded chicken and prepping the ingredients beforehand. I keep a jar of sun dried tomatoes in the pantry and usually have most of the other staples on hand too.
I always wanted to make fried rice at home that tasted like the real thing. This recipe is as close as I can get and it's delicious! I make mine in the pressure cooker and it comes out incredibly fluffy and full of flavour. You can also make it in a wok or frying pan in no time at all. Fried rice also tastes fantastic using pre-cooked and cooled rice from the fridge. It also makes great leftovers for school or work lunches, or can be frozen for another easy dinner.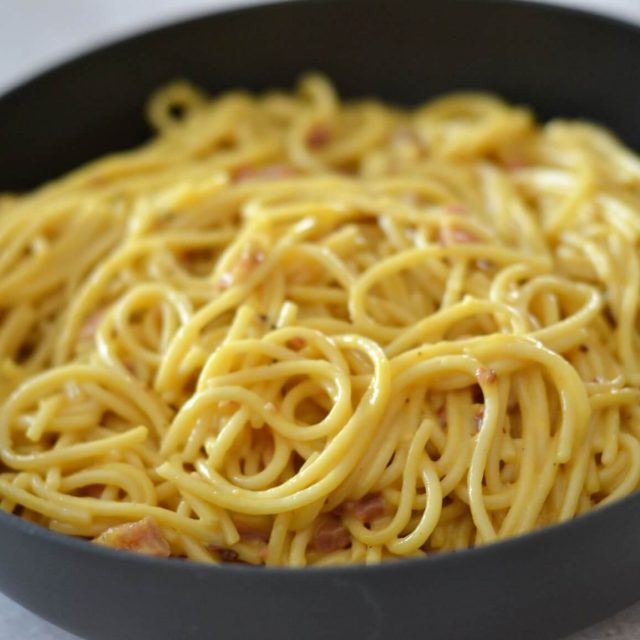 This spaghetti carbonara is filling and cheap, but so good! It can be made in the time it takes to cook the pasta and makes a great family weeknight dinner, or a meal for a fancy dinner party.
Meat Free Monday! This healthy, delicious chilli is super quick and easy to make. It can be made from scratch in ten minutes! The sweet potato wedges take a little longer, but can be prepped ahead of time. This is such a filling, nutritious meal for a busy weeknight.
This rich, mild and creamy chicken tikka masala is so quick and easy to make! It is mild enough that the whole family will love it. The sauce can be made ahead and frozen and you can use a BBQ chicken to make dinner even faster. Serve with rice or quinoa.
These chicken and bacon pies are perfect for speedy weeknight dinners. The filling can be made ahead and placed in the fridge. If you have a pie maker, they take less than ten minutes to make! And they are super delicious.
For dinner in a hurry, keep some homemade taco seasoning handy in the pantry. These easy beef tacos are super quick to make and everything from the salad to the salsa and meat can be prepped ahead of time. A much healthier alternative to pre-packaged taco kits.
Mexican Chicken and Vegetable Soup
This delicious Mexican inspired soup is packed full of flavour and healthy ingredients like chicken, vegetables and beans. This is a quick and easy dinner that the whole family will love. Perfect for the slow cooker or stove top, you can even use a shredded BBQ chicken to save more time.
So, there you go! My 7 time saving tips for speedy weeknight dinners. I hope they help you reduce weeknight dinner stress! If you try any of my recipes, I'd love to hear what you thought. Thanks for reading.
Are you following us on Facebook, Instagram and Pinterest?
Thanks for reading! Subscribe to The Cooking Collective to have more beautiful recipes delivered straight to your inbox.