Do you struggle with making your kids a healthy school lunch every single day? For a freezer packed full of grab-and-go school lunches that you and your kids will actually look forward to eating, try these tips and healthy lunch box recipes below. These healthy school lunch ideas will save you SO much time and stress in the kitchen and change the way you think about making lunches!



Healthy School Lunch Ideas

Do you hate making school lunches?

If you are anything like me, you might find yourself struggling for lunch box inspiration. And that is completely understandable when, if you think about it, one child alone will eat around 2,340 school lunches in their entire school life. That's a lot of lunches! And that number is just for one child!

Like me, you may have experienced the stress of chaotic school mornings.

On busy mornings, pre-packaged store bought snacks can seem like an easy option for lunchboxes. They are quick and convenient and can be added to lunches in no time, but they can also contain refined sugars and other hard-to-pronounce ingredients that aren't always the healthiest choice.

I want to show you how, in a few short hours over the school holidays, you can have an entire freezer full of school lunchbox snacks that will keep your kids smiling and last for a whole school term.

Follow my tips below and never stress about school lunches again!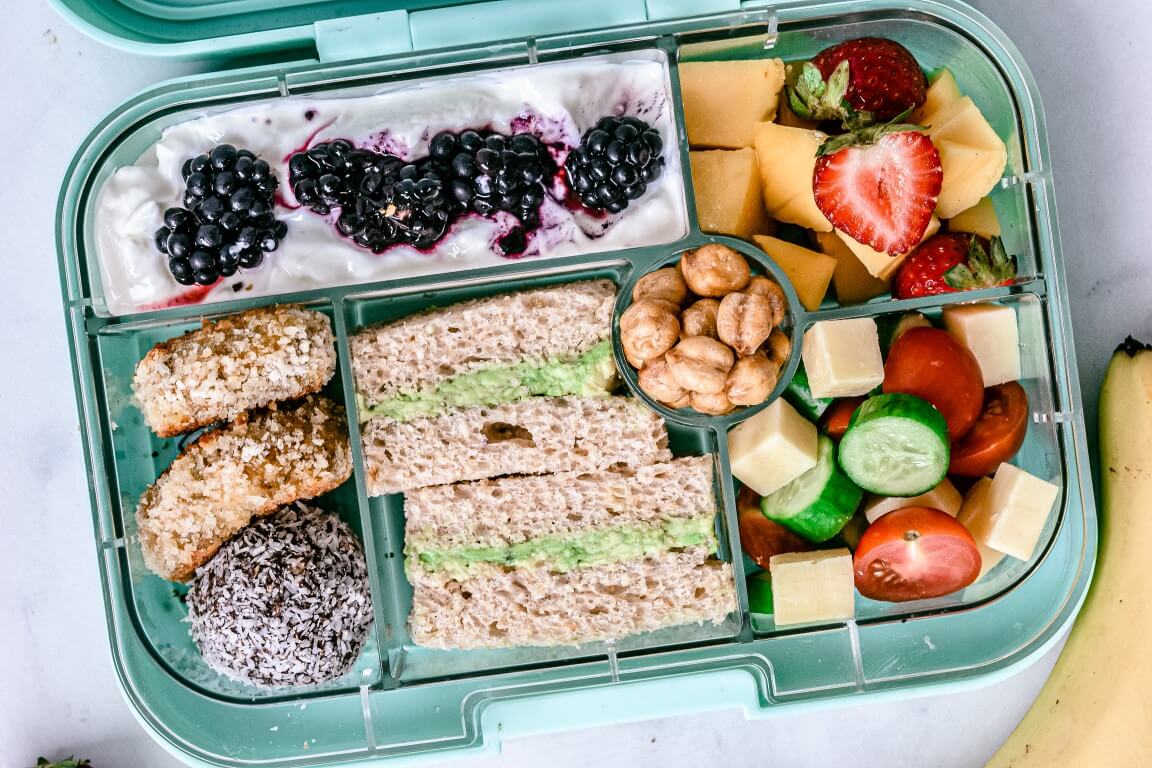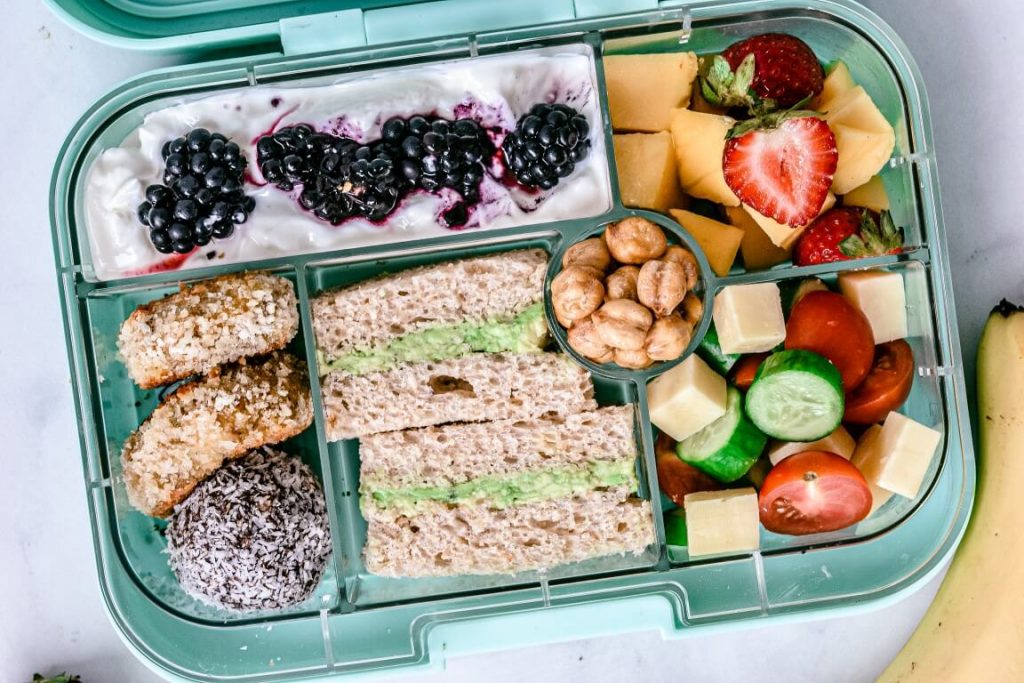 Preparing school lunches in bulk saves you time and money;

Rather than spending time every single day making school lunches, try spending just one day on the school holidays or a weekend preparing for the term ahead.

Make some batches of easy, freezable lunchbox ideas that can be stored in the freezer and added to lunchboxes within seconds on busy school mornings. Most snacks can be added to lunchboxes completely frozen and will be thawed by snack time!

Preparing a whole term of food in one day over every school holidays adds up to only four times a year that you need to spend on the hardest part of the school lunches.

Before the beginning of each school term, I make bulk quantities of sausage rolls, scrolls (cheese and Vegemite, ham and cheese or pizza), healthy lunchbox muffins and berry cupcakes, amazing chewy and healthy raw cookies, breakfast cookies, healthy and nut-free bliss balls, quiches, chia pudding, healthy muesli bars, veggie packed nuggets, banana bread and more.

These lunchbox fillers can sometimes replace sandwiches and save so much time when mixed up with pre-prepared snacks and fresh fruit. And your kids will always have variety and excitement in their lunches. Win-win!

There are so many benefits to making your own healthy school lunches and snacks;


Preparing food in large quantities saves time and hassle
Avoiding packaged food means that you get to control of the ingredients going into your kids' bodies
Making simple recipes at home saves time and money
You will always have something on hand and ready to place into lunchboxes when you are short on time. And plenty of choice means no boring lunchbox repetition!

To prepare a whole school term of healthy school lunches, follow these tips below;


School Lunch Storage;

Make sure you have enough storage, including large, airtight containers and freezer space for the amount of food you are making.

Good quality, airtight containers will make your food last longer and protect it from getting damaged in the freezer. I pre-wrap my kids' food in baking paper so that they are ready to go straight from the container into lunchboxes.


Pre-wrapping further protects your food from freezer damage and means that you don't have to waste time packaging food in the morning.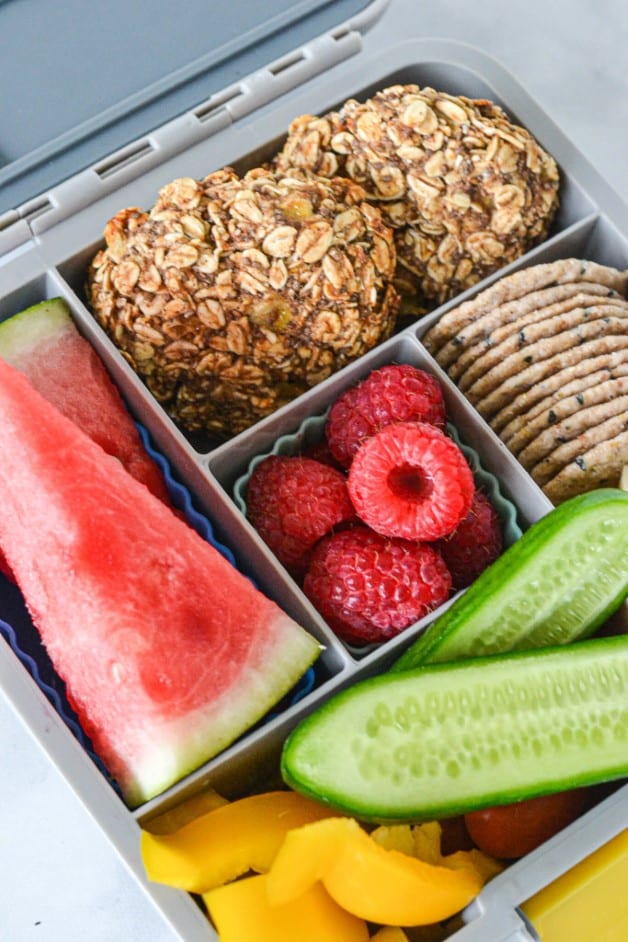 Plan School Lunches Ahead and Bake in Bulk;


Bulk making of school lunchbox snacks will give you a wide selection of snacks on hand and save you so much time!

First, decide what you are going to make and write down the ingredients that you need. You can find a lot of great school lunch box recipes online, but if you need further lunch box inspiration or some freezable lunchbox ideas and recipes, see here or try my 50 Healthy Freezer Friendly School Lunchbox Snacks E-BOOK here.

Try batching together recipes with similar ingredients or methods to save on time. For example, a batch of bliss balls and raw cookies contain similar ingredients and can both be prepared, one after the other, in a food processor.

Look at how long each recipe will take you and work out how much time is required to make what you need. Ensure that you have all of the ingredients on hand and that you have the right equipment so that you are ready to go. For example, baking trays, bowls, cooling racks, food processor, loaf tins, etc.

Once you have everything ready, dedicate a few hours on a day where you have no (or minimal) distractions to get it done. In a few hours, you will have a freezer full of snacks and lunches to use throughout the term.
Healthy lunchbox ideas for kids that can be stored in the freezer;

Savoury Lunchbox Ideas;

Healthy Sweet Lunchbox Ideas;



Dinner leftovers can also be stockpiled in the freezer in lunch sized portions. Leftover lasagne, roast meat and veggies, pasta and fried rice all make great lunches.



Invest in good quality lunchboxes and storage containers;


Do you spend lots of time hunting for missing lids or containers that fit? #storyofmylife
Consider investing in some leak-proof, bento style lunchboxes which don't require any loose containers or food wrapping. The Little Lunchbox Co. help eliminate the need for unnecessary plastic waste by offering bentos that keep foods separate and are the perfect size for food storage. They also stock some fantastic and well priced lunch boxes, bags, drink bottles and accessories. The bamboo e-box by eboo is another great eco-friendly option for lunches on the go.

Good quality lunchboxes are great time savers too, because you can reduce time spent wrapping and covering foods.

Invest in good quality airtight containers with leak-proof seals for storing snacks to add to lunchboxes. You can pre-cut fruits, veggies and other snacks into ready to go portions and keep them handy in the fridge.


Label and date everything;


For busy mornings, having clearly labelled containers means you can easily see which items you are grabbing without any hassle. It also helps you keep track of what is freshest so that you can rotate and use older foods first.


Weekly School Lunch Plan;

Now that you have a freezer full of school lunchbox snacks at your disposal, spend some time planning what is going into your lunchboxes throughout the week. Consider what you have ready to grab from your freezer and which fresh foods are going with them. In half an hour on the weekend, an entire week of snacks can be prepped, ready to place into lunchboxes.

A container of sliced cheese or vegetables will last in an airtight container in the fridge for the school week. Consider cutting a large container of pre-cut snacks to save time during the week. Fruits can also be washed and strawberries, blueberries, grapes added to individual containers.

A large batch of chia pudding can last for a school week, so it can be prepared in bulk and added to individual containers, ready to grab and go. Consider using a large container of yoghurt spooned into small containers.


If your child eats biscuits or popcorn, consider purchasing a larger bag and adding serves into reusable containers. Preparing food this way (rather than packaged individual serves) saves on plastic waste.



Other healthy lunchbox ideas that can be prepared ahead of time;

Hard boiled eggs
sliced fruit and yoghurt
chia pudding
sliced veggies and dips
baked veggie chips
air popped popcorn
fruit salad
sushi
pikelets
cheese and biscuits

Thanks for reading!
Bulk school lunches are an incredible time saver for busy families. Storing a selection of healthy school lunches for kids (and adults too!) reduces stress as well as saving time and money. I hope you find these healthy school lunch ideas and tips useful.

**This page may contain affiliate links. Purchases made using these links may provide a small amount of commission to me (at no extra cost to you).

For more healthy school lunch ideas, check out these recipes.

To save time and money on healthy school (and work) snacks, see my 50 Healthy School Snacks E-BOOK which contains a bonus Guide to Making 2 Minute Lunches.


Are you following us on Facebook, Instagram and Pinterest?
Thanks for reading! Subscribe to The Cooking Collective to have more beautiful recipes delivered straight to your inbox.

[products limit="4″ columns="4″ orderby="rand"]