Crispy and juicy gyoza, filled with a mouth-watering prawn, garlic and ginger filling and served with a soy and chilli gyoza dipping sauce. Bursting with flavour and so easy to make at home – you will want to make this delicious prawn gyoza recipe again and again and again!


PRAWN GYOZA RECIPE;
These irresistible Japanese inspired prawn gyoza (also called dumplings) are golden and crispy on the bottom with a juicy prawn filling inside, pan fried and steamed to absolute perfection. And they give even the best dumpling restaurants a run for their money!


Cooked to perfection, these tasty prawn dumplings are first shallow fried in a pan and then steamed in water so that the bottoms stick and go crispy while the top steams.


Even if you have never tried making your own, gyoza is something that can easily be made at home from scratch. And not only are they easy, they are also a lot of fun too!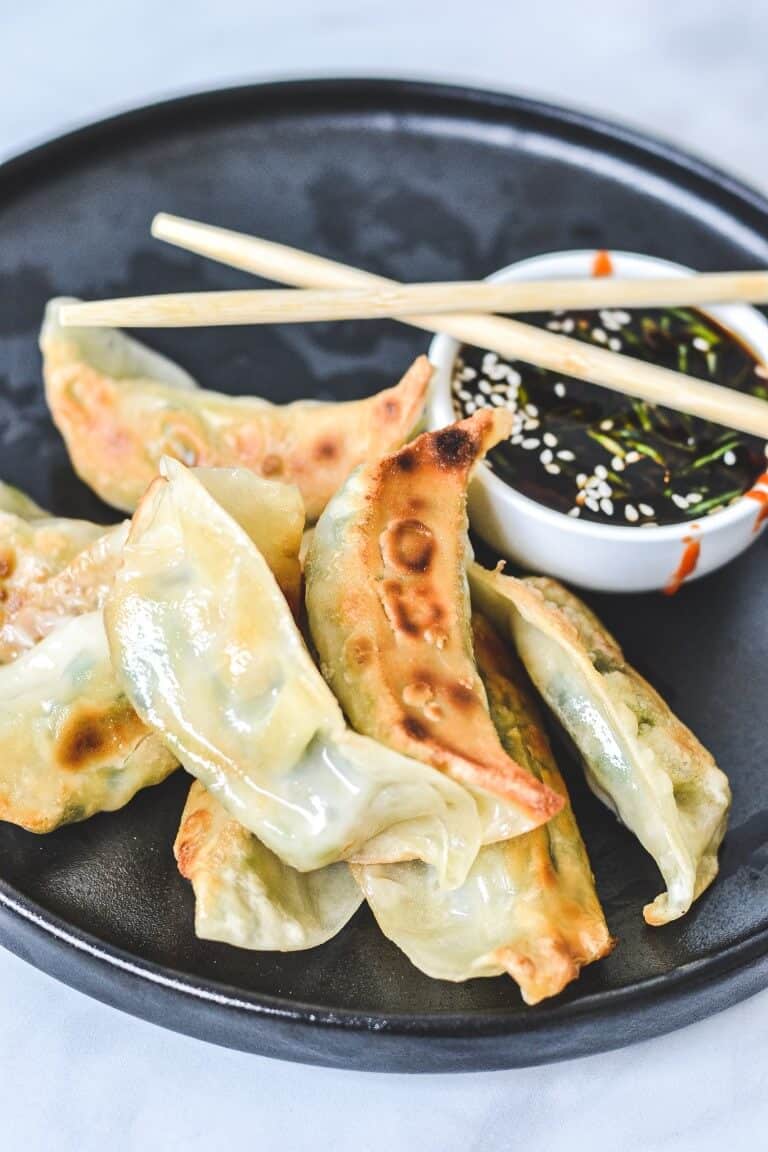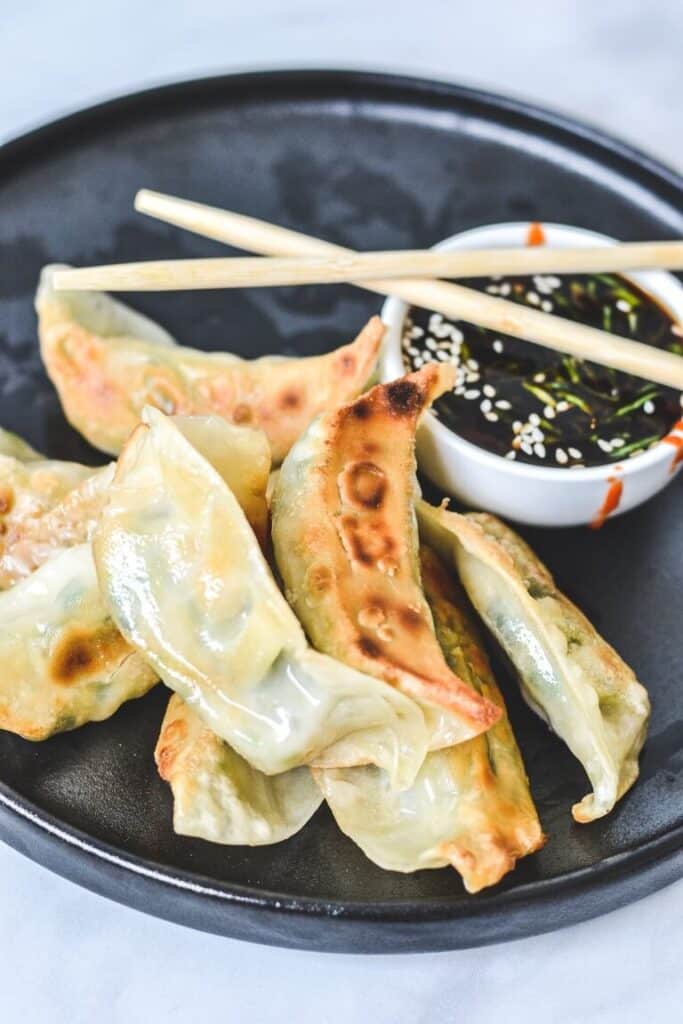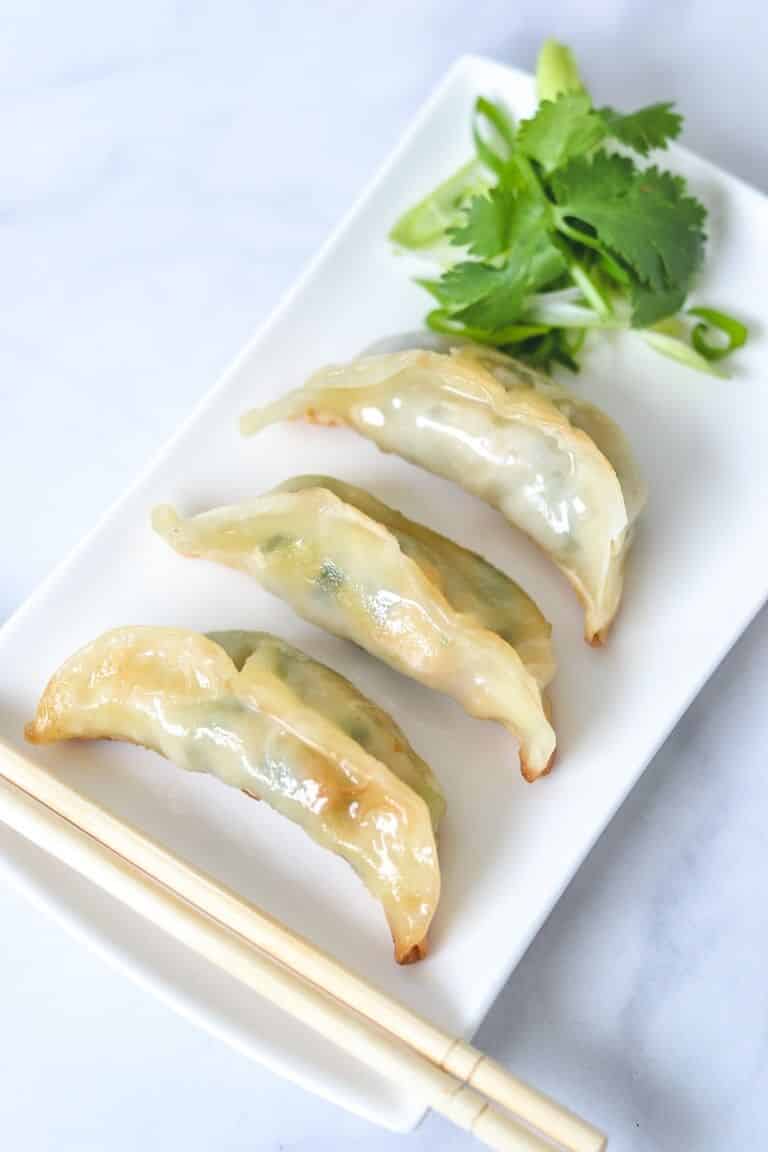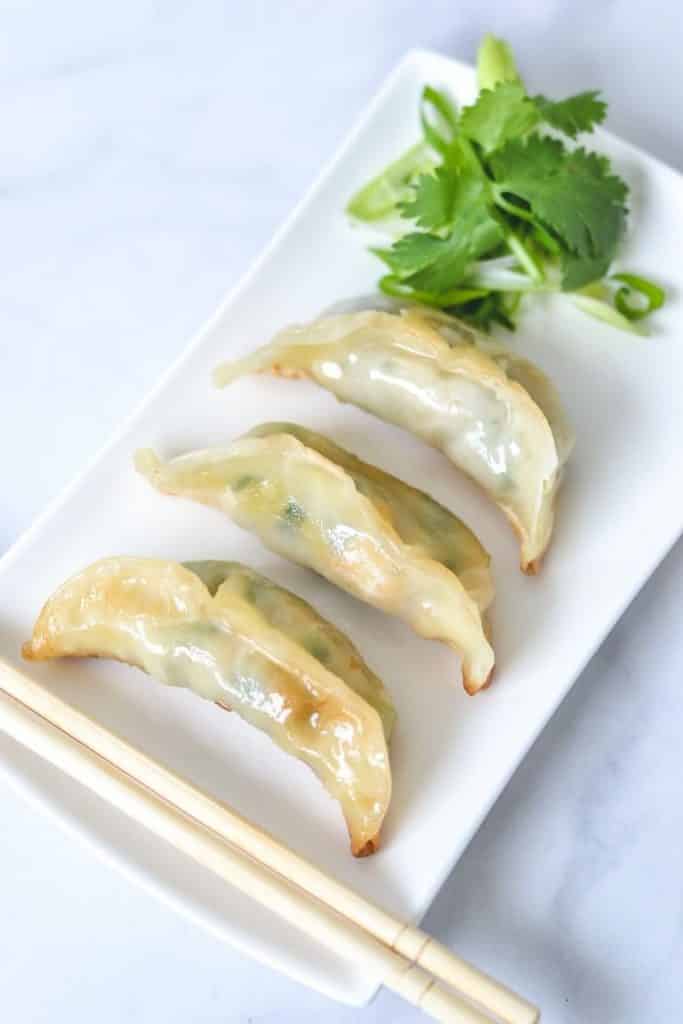 GYOZA FILLING;
While most gyoza recipes contain ground meat like pork, this one uses prawns instead. The beauty of this simple and light filling (aside from being completely delicious) is that all of the ingredients are roughly blended together in a food processor, making them incredibly easy to make and assemble.


Prawns. The filling for these homemade gyoza uses raw prawns. This way, the filling cooks during the steaming process and stays succulent and tender.


Spring onions. You could also use chives, or garlic chives.


Shallots.


Garlic. Roughly chop the cloves before adding them to the food processor.


Ginger.


Coriander.


To make the filling, simply add all of the chopped ingredients together in a food processor and pulse until mostly combined, but still with a little texture. The gyoza filling will stick together which makes for easy wrapping.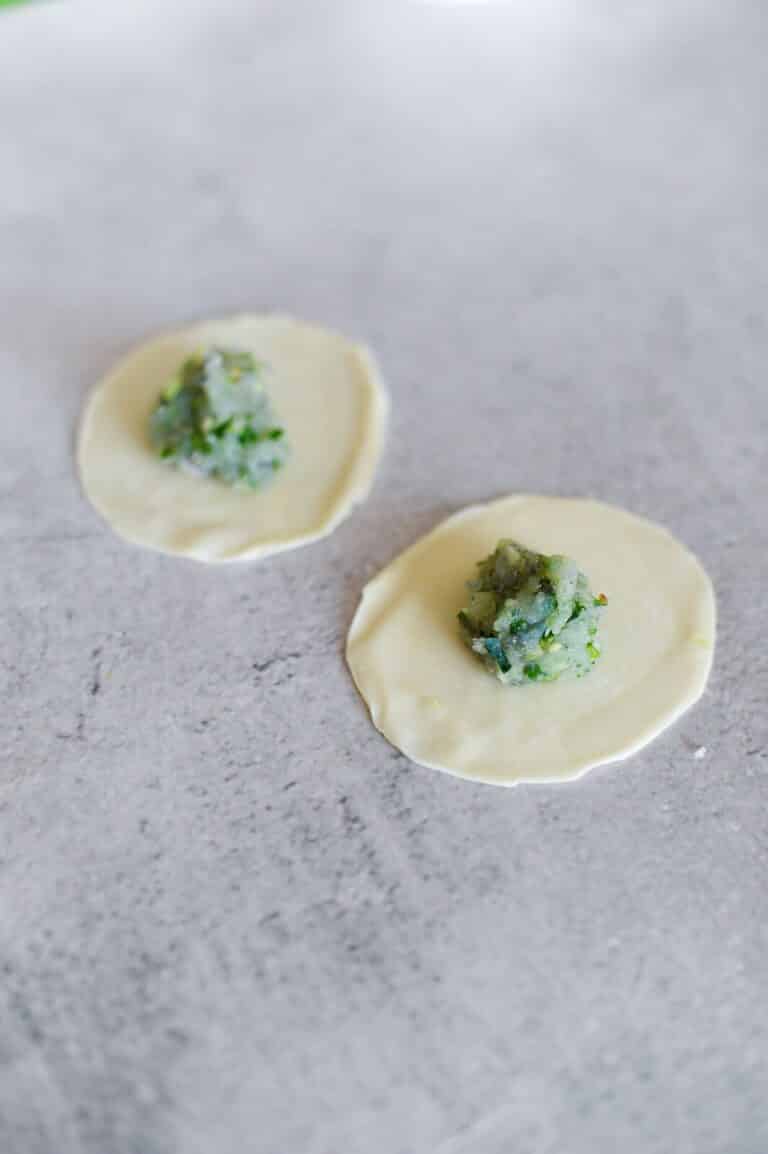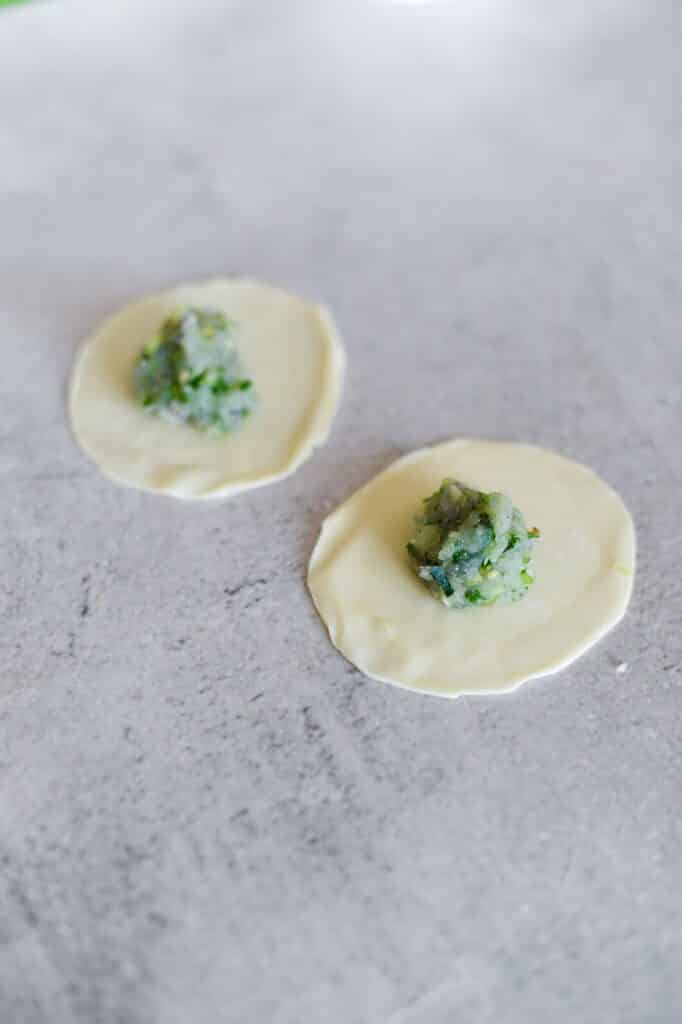 For this recipe, you will need around 35 gyoza wrappers. You will find them readily available in most Asian grocers, as well as major supermarkets. In supermarkets, they are usually located refrigerated near the fresh pasta and tofu.


HOW TO FOLD GYOZA;

There is a definite art to folding a gyoza! But even beginners can master it after a few tries.


The best thing is, as long as you have a good seal, they don't have to look pretty! If you are in a hurry or find folding gyoza tricky, forget the pleats and simply fold them in half, sealing the edges with a little water. They will look a little less fancy, but still taste amazing!


Simply place a wrapper on the palm of your hand and spoon in a little of the filling. Then, use a little water to seal the edges, fold them in half and pinch the seal to make little pleats (if you choose!).


I find that the circular dumpling wrappers are easiest to master. Any leftover gyoza wrappers can also be stored in the freezer for later use. Simply store the gyoza wrappers in an airtight container and thaw at room temperature before using.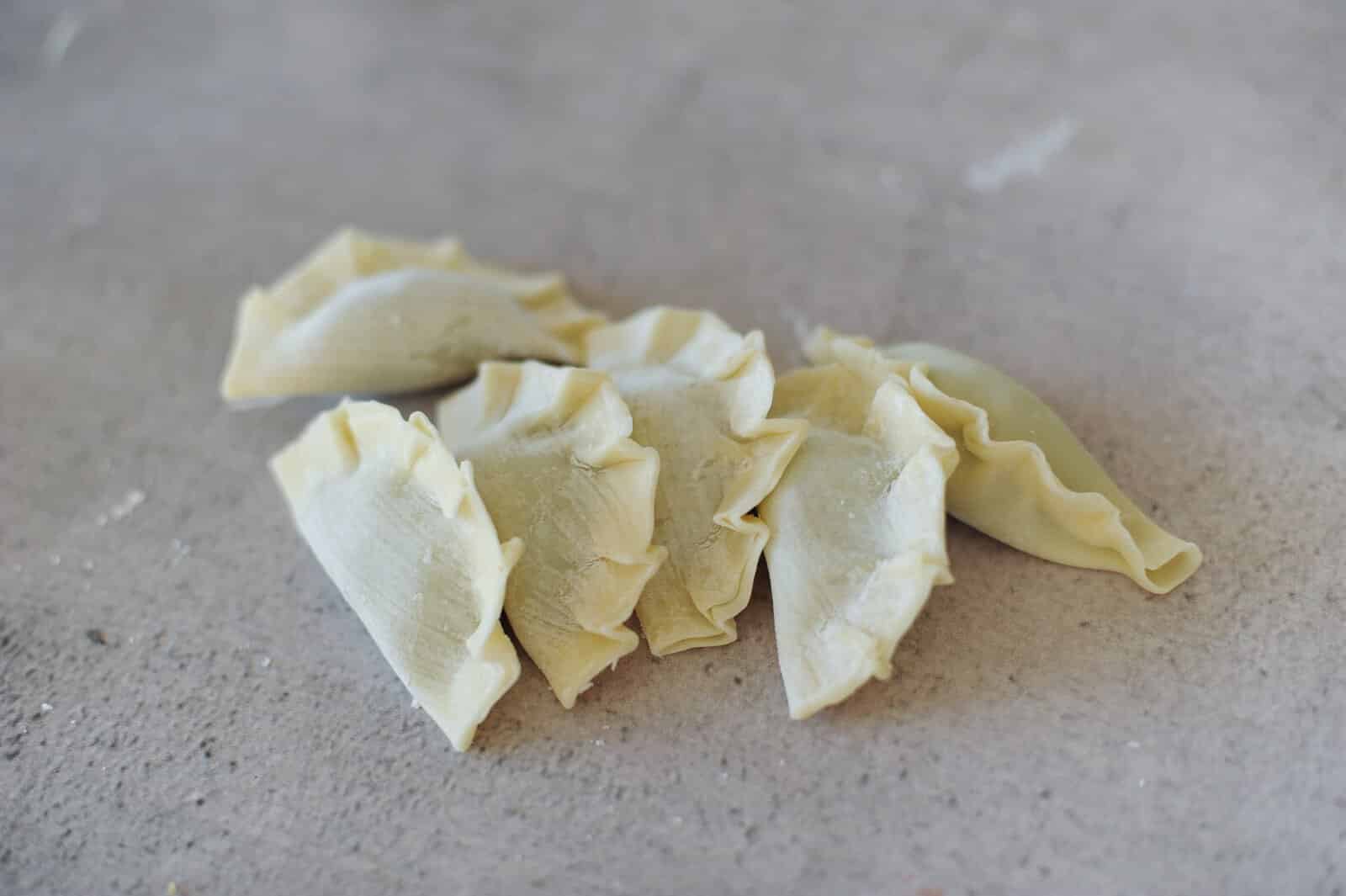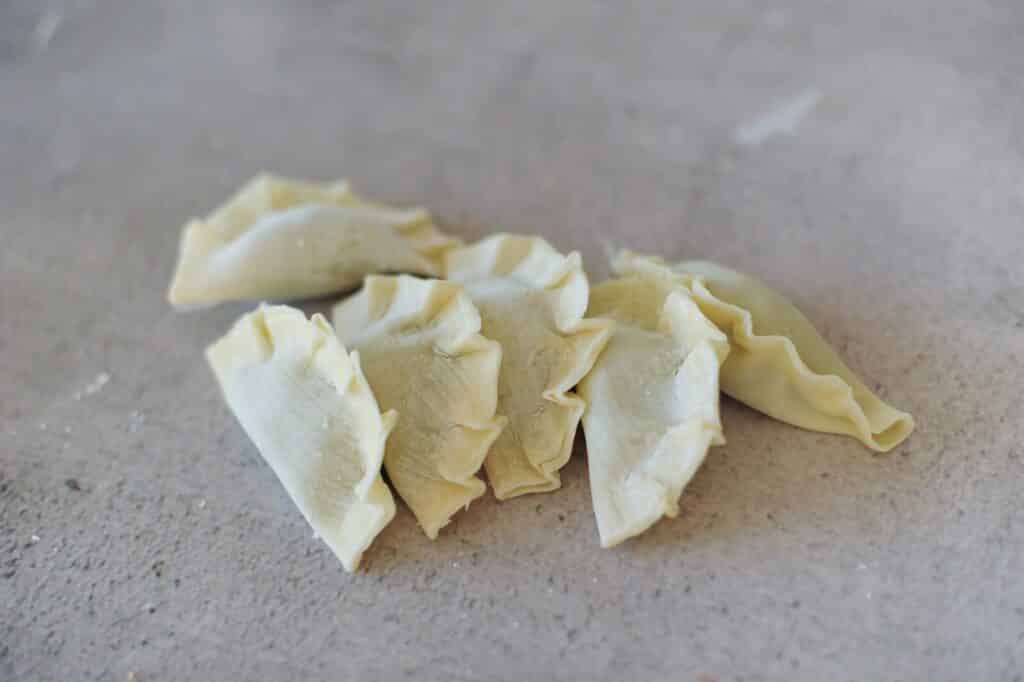 HOW TO COOK GYOZA;
This gyoza recipe yields about 35 dumplings, so it is best to cook them in batches.

To cook prawn gyoza, simply;
Heat about 1-2 tablespoons of oil in a large pan.


Place the gyoza bottom side down on the pan in rows, cooking until the bottom of the dumpling is crispy and golden in colour.


Pour a small amount of water into the pan (be careful of spitting!) and cover to allow the gyoza to steam.


Cook until the water is gone and serve immediately with gyoza dipping sauce.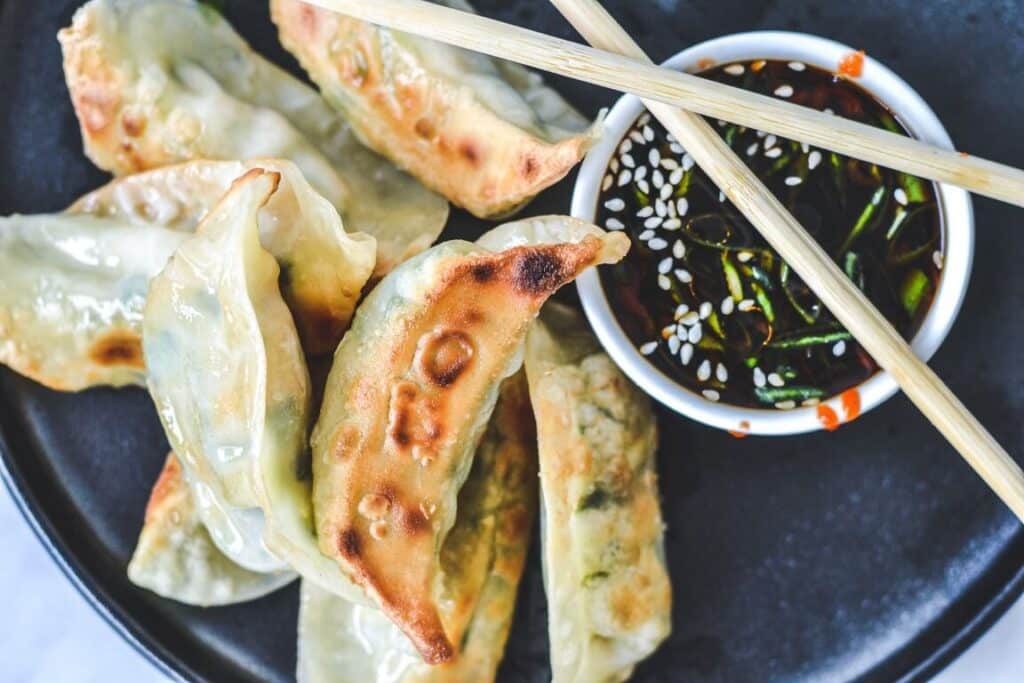 GYOZA DIPPING SAUCE;

A good gyoza dipping sauce is not compulsory, but trust me, you want to try this gyoza and dipping sauce combo! While these little parcels of prawn are delicious on their own, serving them with this soy and chilli dipping sauce takes them to a whole new level!


You can control the amount of heat in your dipping sauce by adding more (or less) sriracha sauce, depending on your preference.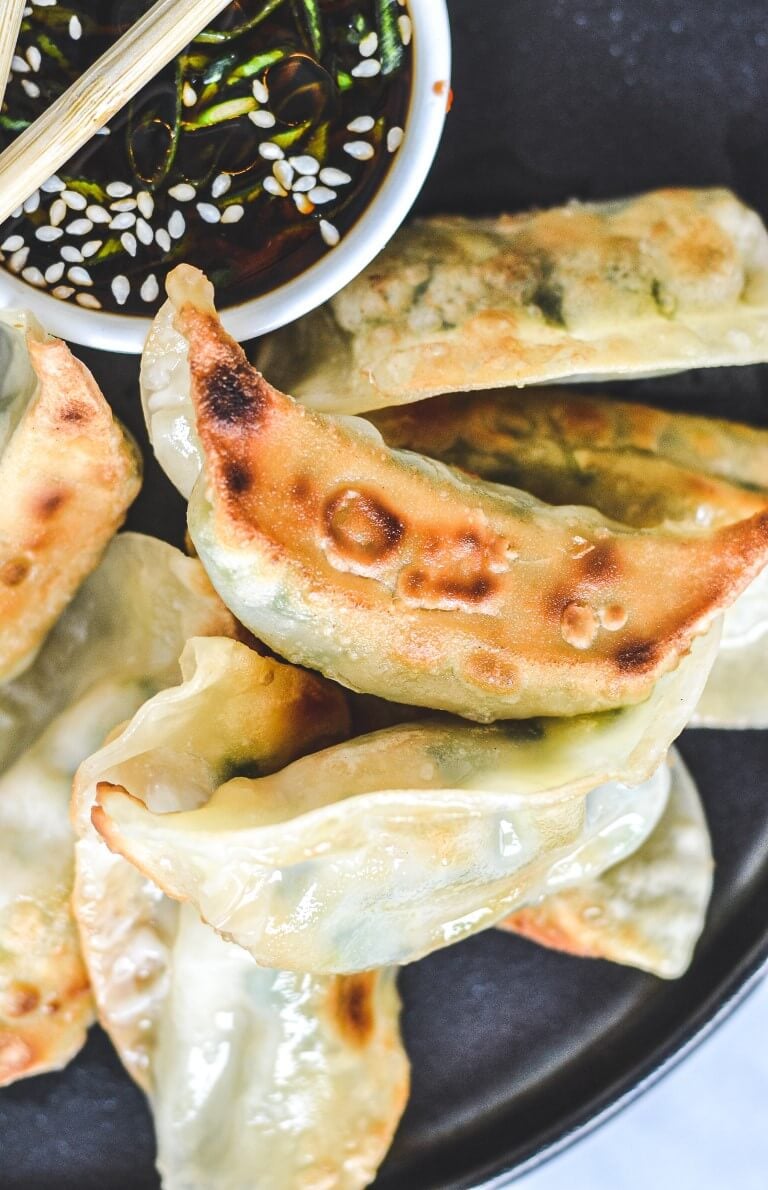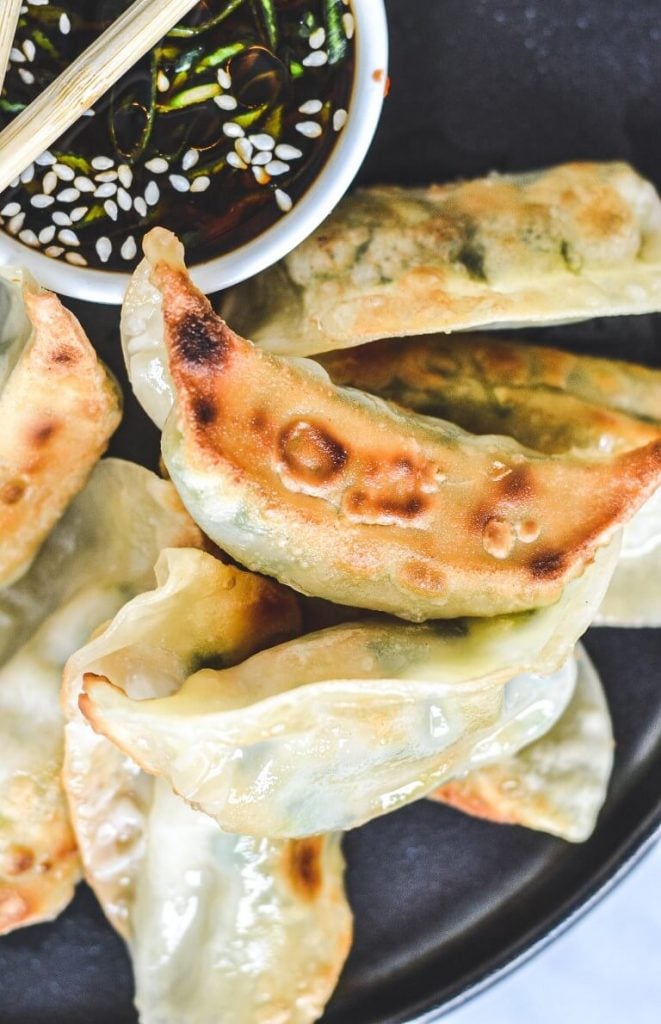 FROZEN PRAWN GYOZA;

Gyoza can be made in bulk ahead of time and placed in an airtight container in the freezer, so you can have your very own gyoza whenever that dumpling craving hits! Just separate any layers with baking paper to avoid sticking.


You don't have to thaw them before cooking either! To cook from frozen, just follow the same method below, but cook for a couple of minutes longer.

Complete your Asian inspired banquet with this chicken and cashew stir fry, better than takeaway fried rice, pork ramen noodle soup and chicken and corn soup!
If you try this prawn gyoza recipe, I'd love to hear about it! Feel free to leave a comment or review below, or send me a message. For more food inspiration, tips and to share your own recipes and creations, head over to my Facebook Recipe Group.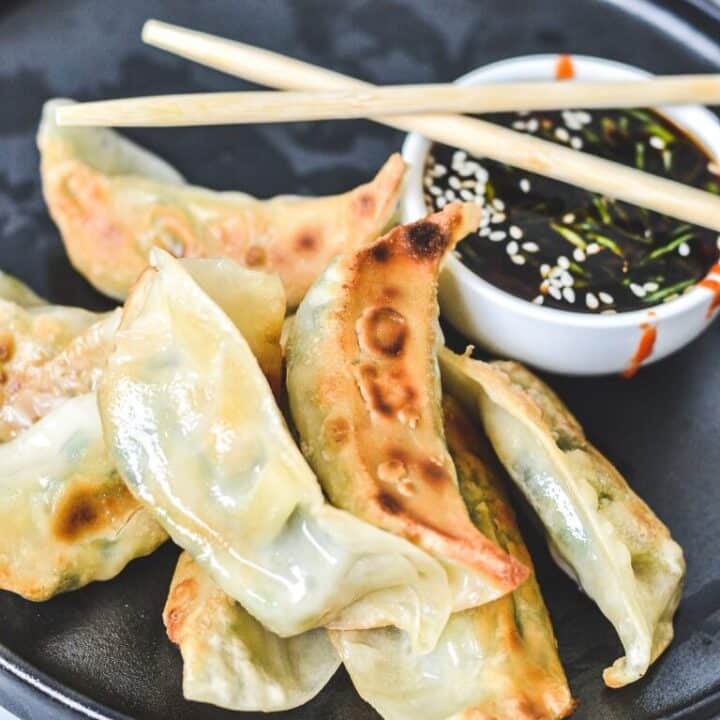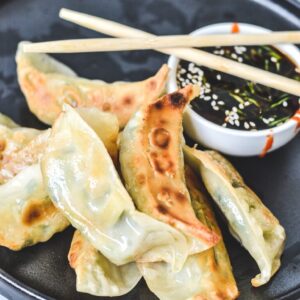 Prawn Gyoza Recipe (Pan Fried Dumplings) with Chilli Soy Dipping Sauce
Crispy and juicy gyoza, filled with a mouth-watering prawn, garlic and ginger filling and served with a soy and chilli gyoza dipping sauce. Bursting with flavour and so easy to make at home – you will want to make this delicious prawn gyoza recipe again and again and again!
Print
Pin
Rate
Ingredients
400

grams

prawns

(green prawn meat, peeled and chopped)

2

spring onions

chopped

1

shallot

(small) peeled and chopped

3

cloves garlic

peeled and chopped

ginger

2cm piece, peeled and chopped

2

tbsp

coriander

fresh, chopped

salt and pepper

35

gyoza wrappers

2

tbsp

canola oil

or vegetable oil
Dipping Sauce
4

tbsp

soy sauce

light or dark

2

tbsp

rice wine vinegar

1

tsp

sesame oil

1

tsp

sriracha chilli sauce

(or alter the measurement to suit your taste)
Instructions
For the dipping sauce.
Stir the ingredients together in a small mixing bowl until combined. Set aside until ready to use.
For the gyoza
For the filling, place the prawns, onions, shallots, garlic, ginger and coriander into a food processor with a generous pinch of salt and pepper.

Place the chopped ingredients into a food processor and pulse on low-medium speed until the mixture is just combined and sticking together, but still has some small chunks.

Lay the gyoza or wonton wrappers onto a clean surface. Place a teaspoon of the filling onto each wrapper. Use a pastry brush to brush a little water on to the edges of the wrapper and then fold the wrapper in half. Pinch the edges together firmly to seal. Repeat until all gyoza are folded.

Heat the oil in a large frying pan over medium heat and place gyoza into the frying pan, bottom side down. You may need to cook in batches. Fry one side of the gyoza until crisp and golden.

Add approximately 100ml water into the hot pan and cover with a lid.

Allow the gyoza to steam for around 5 minutes or until cooked through. The water should evaporate by this time. Repeat process with remaining gyoza. Serve immediately with the gyoza dipping sauce and (optional) top with toasted sesame seeds and chopped coriander. Enjoy!
Notes
These gyoza can be made in bulk ahead of time and frozen in batches, ready for whenever the craving hits! Simply separate the layers with baking paper and store in an airtight container in the freezer. There is no need to thaw the gyoza first, they can be cooked straight from the freezer. Just cook them in the pan for a few minutes longer.
Nutrition
Calories:
44
kcal
|
Carbohydrates:
5
g
|
Protein:
3
g
|
Fat:
1
g
|
Saturated Fat:
1
g
|
Cholesterol:
29
mg
|
Sodium:
250
mg
|
Potassium:
30
mg
|
Fiber:
1
g
|
Sugar:
1
g
|
Vitamin A:
14
IU
|
Vitamin C:
1
mg
|
Calcium:
23
mg
|
Iron:
1
mg
Are you following us on Facebook, Instagram and Pinterest?
Subscribe to The Cooking Collective to have more beautiful recipes, freebies and more delivered straight to your inbox.
[products limit="4″ columns="4″ orderby="rand"]