Soft and buttery vanilla biscuits with a lovely sweet jam centre, these easy jam drop biscuits are a classic, old fashioned favourite.
Great for an after school snack or afternoon tea, these delicious cookies are such a joy to make. Perfect for your next baking adventure, it's time to fill up the cookie jar! These jam drop (or thumbprint) cookies are made using only six ingredients and are ready to eat in 20 minutes. And you will most likely already have the ingredients in your pantry, just begging to be baked!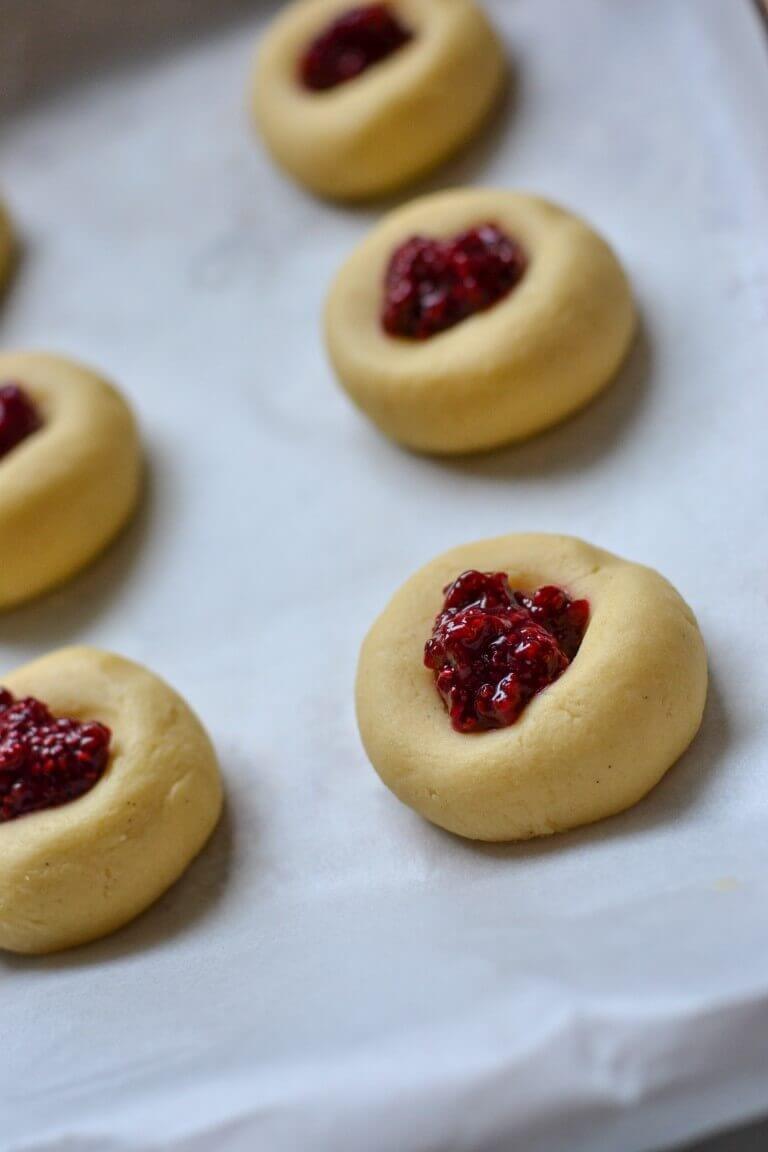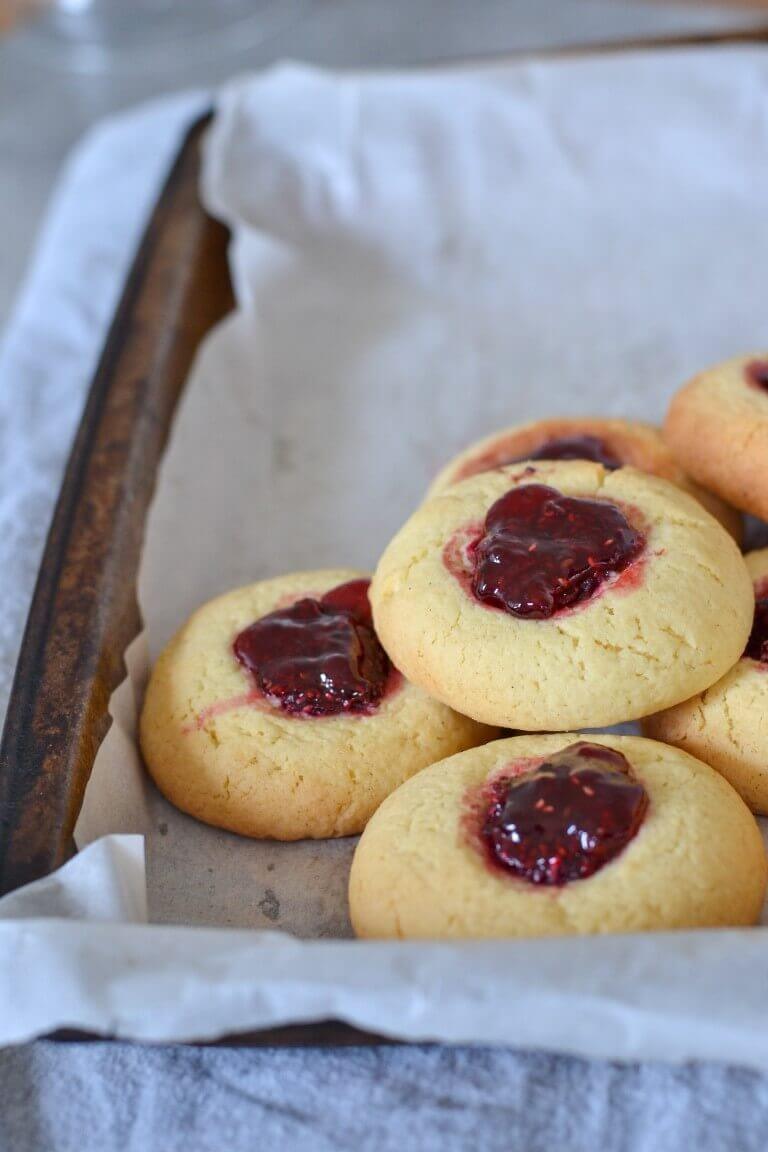 These lovely soft, buttery vanilla cookies and sweet raspberry jam are a match made in heaven. You can use regular raspberry jam for this recipe, or try this healthy raspberry chia jam instead.
This is also a really fun recipe to make with kids! They can help measure and count ingredients and mix. They will have fun rolling the mixture into balls in their hands and helping to press their thumbs into the cookies for the jam. Our balls and cookies were not perfectly shaped, but that's part of the fun of cooking with kids.
These easy jam drop biscuits will keep in an airtight container for around seven days, or can even be frozen.
Ingredients
130g butter (a little over 1/2 cup) at room temperature

1 cup caster sugar

1 tsp vanilla bean paste

2 eggs

2 cups S.R flour

1/3-1/2 cup raspberry jam
Instructions
See recipe for raspberry chia jam here.
Pre-heat oven to 180Cº (350F) and line two baking trays with baking paper.
Beat the butter, sugar and vanilla together in a large mixing bowl until pale and soft. Add the eggs, one at a time and continue to beat until combined and fluffy.
Add the flour and mix to a firm dough. You can use your hands to bring it together if needed.
Roll the mixture into balls (around 16-18) on the prepared trays and gently flatten them slightly. The cookies will spread a little, so keep at least 5cm between each ball. Using your thumb, press the centre of each biscuit to make a well for the jam.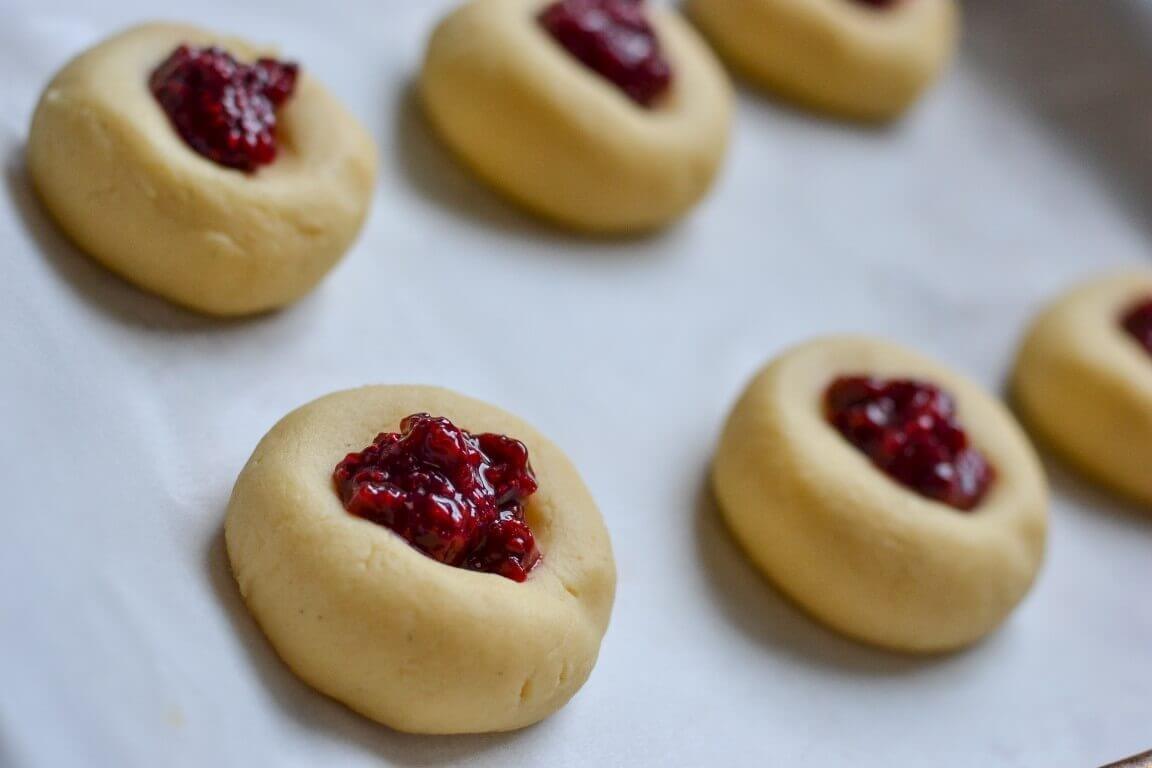 Add spoonfuls of jam to the centre of each biscuit and bake for 10-15 minutes, or until slightly golden and cooked through.
Allow to sit for a few minutes and then use a flat spatula to transfer the biscuits to a wire rack to cool completely. (Or eat while warm- be careful of hot jam!). Enjoy!
Some more baking recipes you may be interested in;
Are you following us on Facebook, Instagram and Pinterest?
Thanks for reading! Subscribe to The Cooking Collective to have more beautiful recipes delivered straight to your inbox.