What do you do with a bunch of spotty, brown bananas? Make a banana cake, of course! But not just any banana cake. Incredibly soft banana cake, covered with a generous amount of tangy lemon cream cheese frosting and ginger crumble! This cake is absolutely delicious-and is a great use for old bananas. Perfect for afternoon tea or any special occasion.
I'm not going to lie, sometimes I buy extra bananas just so that some will become overripe and NEED to be made into a cake. Smart, right?
Banana cake + lemon cream cheese frosting + ginger crumble.
This beautifully moist banana cake is made with overripe mashed bananas. The browner and spottier they are, the sweeter and stronger the banana flavour your cake will have. If you have bananas that have ripened too much to eat, you can keep them handy in the freezer until you are ready to use them.
The other important component of this cake is buttermilk. Buttermilk is the ingredient that makes this cake incredibly soft. It has a high acidity that will work to break down the gluten in flour, making the cake softer.
I usually have most of the ingredients for a banana cake on hand, but I don't always have buttermilk in my fridge. If you don't have any, you can easily make a substitute at home! Just add one tablespoon of vinegar or lemon juice to one cup of full cream milk. Stir and let it sit for a few minutes before adding it to the batter.
I first made this ginger crumble a few years ago for the best ever pancakes. The texture is lovely and crunchy and the salty ginger contrasts perfectly with the sweet banana flavour. You will have leftover crumble – but it can be stored and used for a number of delicious desserts! Lately, we have been eating it with tart stewed apples, caramel sauce and ice cream. It is the best!
The ginger crumble is best added to the cake when you are ready to serve, so that it keeps its crunch.
How amazing is cream cheese frosting?!
I make it any chance I get! It is incredibly soft and creamy with a slight tang from the cream cheese and lemon, meaning it pairs extremely well with this soft banana cake (or carrot cakes, chocolate cakes, any cake really!). Being the lemon lover that I am, I always add lemon juice for a little extra punch. Make sure your cream cheese is room temperature soft before beating to ensure a smooth, lump free consistency.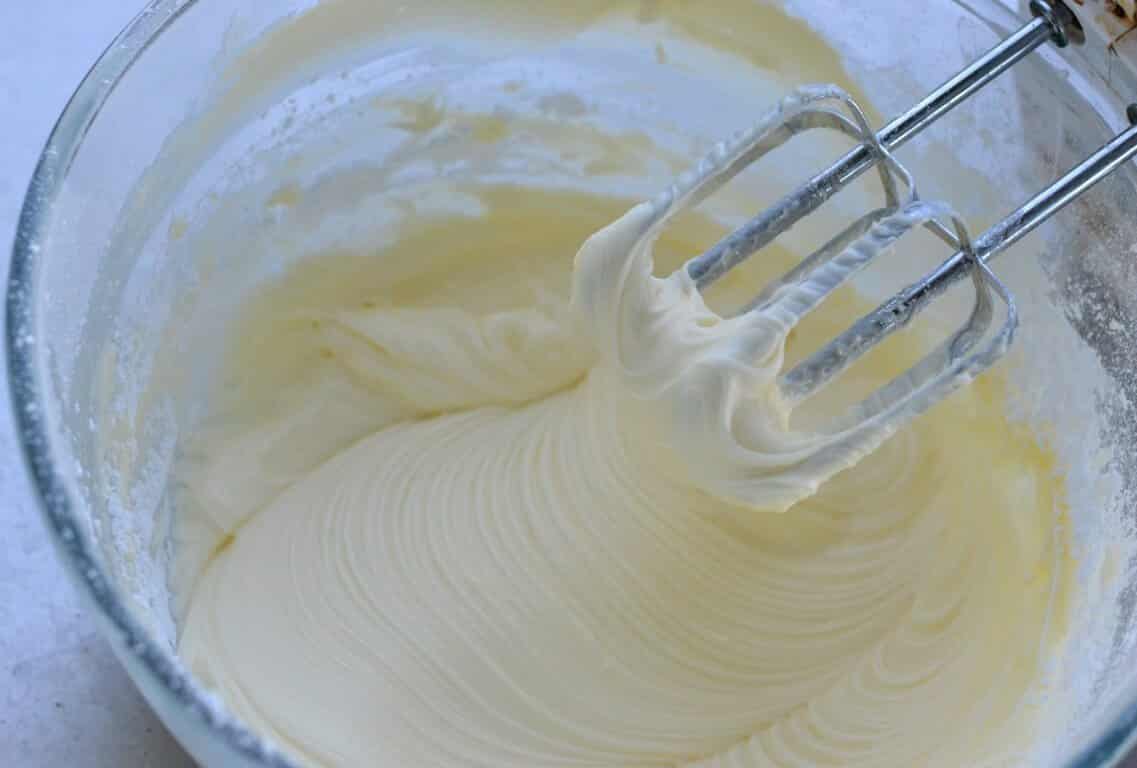 Give this beautifully soft, delicious banana cake with lemon cream cheese frosting and ginger crumble a try next time you need a fancy afternoon tea. And if you do, I'd love to hear about it!
Ingredients
2/3 cup butter (150g), softened at room temperature

3/4 cup caster sugar

1/2 cup brown sugar

3 overripe bananas, mashed

3 eggs, room temperature

2 1/2 cups plain flour

1 tsp baking powder

1 tsp bicarb soda

1 tsp vanilla bean paste

1 1/4 cups buttermilk

1/2 chopped walnuts, optional

FOR THE CREAM CHEESE FROSTING

1 2/3 cups (375g) cream cheese, softened at room temperature

2 1/2 cups icing sugar

3 tbs lemon juice

FOR THE GINGER CRUMBLE

3/4 cup plain flour, sifted

1/4 cup brown sugar

1/4 cup (55g) butter, cubed

2-3 tsp ground ginger

Pinch of salt
Instructions
For the banana cake;
Pre-heat oven to 180C° (356F). Line a round 23cm cake tin with baking paper.
Using an electric mixer or a wooden spoon, beat the butter together with the caster and brown sugars and vanilla. Beat for a few minutes, until soft and fluffy.
Add the eggs, one at a time, and mix until the eggs have been completely incorporated into the butter.
Add the mashed bananas, flour, baking powder, bicarb, nuts and buttermilk and mix gently until just combined.
Pour the batter into the cake tin and bake for around 1 hour 10 minutes, or until cake is completely cooked through (a wider but shorter tin will result in a shorter cooking time). You can test the cake by inserting a wooden skewer into the middle. When it comes out clean with a few crumbs sticking to it, the cake is ready.
Transfer to a wire rack and allow to cool completely.
For the ginger crumble,
While the cake is cooking, place all of the ingredients for the crumble into a food processor and blend until completely combined and mixture resembles fine breadcrumbs.
If you don't have a food processor, mix the flour, salt, sugar and ginger together in a small bowl. Take a few cubes of butter at a time and rub into the ginger mix, between your fingertips. Continue adding butter until all gone and mixture resembles fine breadcrumbs.
Add the ginger mix to the lined baking tray, and bake for around 20-25 minutes, or until golden. You may need to stir with a fork once or twice whilst cooking. Remove from oven and set aside to cool.
The ginger crumble can be prepared ahead of time and once cooled, stored at room temperature in an airtight container. The crumble keeps for about two weeks.
For the frosting;
Make sure the cream cheese is at room temperature and soft, to avoid lumps.
Using an electric mixer on medium speed (or a hand mixer if you don't have an electric one), blend the cream cheese and lemon juice until smooth. Slowly add the icing sugar bit by bit, until completely combined.
To decorate;
Use a bread knife to carefully cut the cake into two layers (through the middle), or keep it whole if you prefer and decorate the top.
Place half of the cream cheese frosting onto the bottom of the cake and place the top layer over the top. Top with the remaining frosting.
Sprinkle the cooled ginger crumble over the top when you are ready to serve. Serve with additional crumble if you wish. Enjoy!
Are you following us on Facebook, Instagram and Pinterest?
Thanks for reading! Subscribe to The Cooking Collective to have more beautiful recipes delivered straight to your inbox.