This is the best salsa recipe ever. It is super fresh, easy to make and so delicious.
Packed with tomatoes and fresh ingredients like jalapenos, onions, lime and cumin, this easy tomato salsa is perfect for nachos, corn chips, wraps and Mexican food. It also makes a beautiful, healthy dip with sliced vegetables for parties or school lunchboxes.
Control the heat by using more or less chillies. You can also add a little chilli powder for extra kick. This fresh easy tomato salsa recipe is so simple to make- it takes less than five minutes and everything gets thrown into a food processor!
Pair it with this amazing homemade guacamole for your next Mexican feast.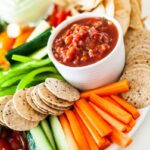 Ingredients
2 x 400g canned chopped tomatoes

1 small red onion, chopped

2 jalapeno chillies, fresh or jar, chopped

juice of one lime

1 tsp ground cumin

2 garlic cloves

1 tsp salt

Optional, small handful of coriander
Instructions
Drain a small amount of liquid from the canned tomatoes to prevent the salsa from becoming too runny.
Add all of the ingredients together in a food processor and blend in bursts until all of the ingredients are combined but the salsa is still slightly chunky. Avoid over blending as you still want the salsa to have texture.
Serve immediately, or place in an airtight container and store in the fridge until required.
Enjoy!
Are you following us on Facebook, Instagram and Pinterest?
Thanks for reading! Subscribe to The Cooking Collective to have more beautiful recipes delivered straight to your inbox.