This baked spinach and ricotta cannelloni in tomato sauce is a delicious recipe. A classic pasta dish and a family favourite.
Cannelloni pasta tubes filled with juicy and creamy ricotta. Baked in a super simple homemade tomato sauce and finished with oozy mozzarella and parmesan cheese. It makes a fantastic midweek dinner and meat free family meal!
Ricotta and Spinach is such a classic combination. This pasta dish is easy to prepare and won't disappoint.
Along with these baked meatballs in tomato sauce and mushroom risotto, this cannelloni is one of my favourite comfort foods!
Keep a few serves of this easy vegetarian pasta bake handy in the freezer for a last minute lunch or dinner. It also makes a great freezer-friendly dinner to give to friends and is perfect when served with a toasted garlic bread or fresh tossed salad.
Most supermarkets stock dry cannelloni tubes. They are easy to use and such a time saver! The cannelloni tubes don't need to be cooked first, as they will soften as they bake. This way, they will soak in all of the tomato and basil goodness.
To make spinach and ricotta filling;
Add the ricotta, parmesan, egg and yolks, garlic, nutmeg and spinach to a large mixing bowl with a generous amount of salt and pepper and mix everything together until creamy and thoroughly combined. This recipe uses a combination of fresh and frozen spinach. However, you can modify depending on your tastes and what you have available.
How to assemble spinach and ricotta cannelloni;
To assemble the spinach and ricotta cannelloni, add a few spoonfuls of the tomato sauce to the bottom of a large baking dish.
I used to stuff around with spoons trying the fill the tubes for years before I worked out that piping the filling is so much easier (and less mess!). Just ensure that the spinach is chopped finely enough that it doesn't get stuck and block the end of the piping bag.
Transfer the spinach and ricotta filling to a piping bag and pipe into each of the pasta tubes. Add each cannelloni tube to the top of the tomato sauce in a single layer.
Layer with more tomato sauce and a generous amount of cheese. Cover with foil and bake for 30 minutes. Then bake uncovered for a further 10-15 minutes, until the pasta is soft and the cheese is brown and bubbling.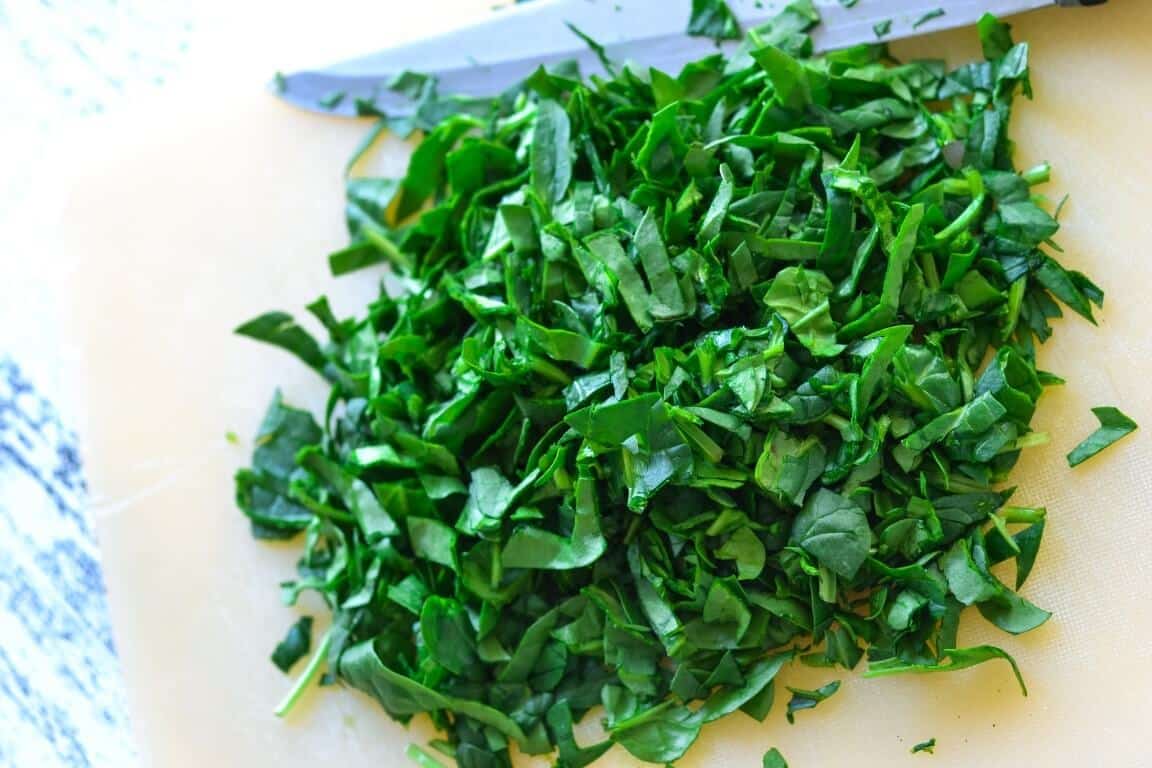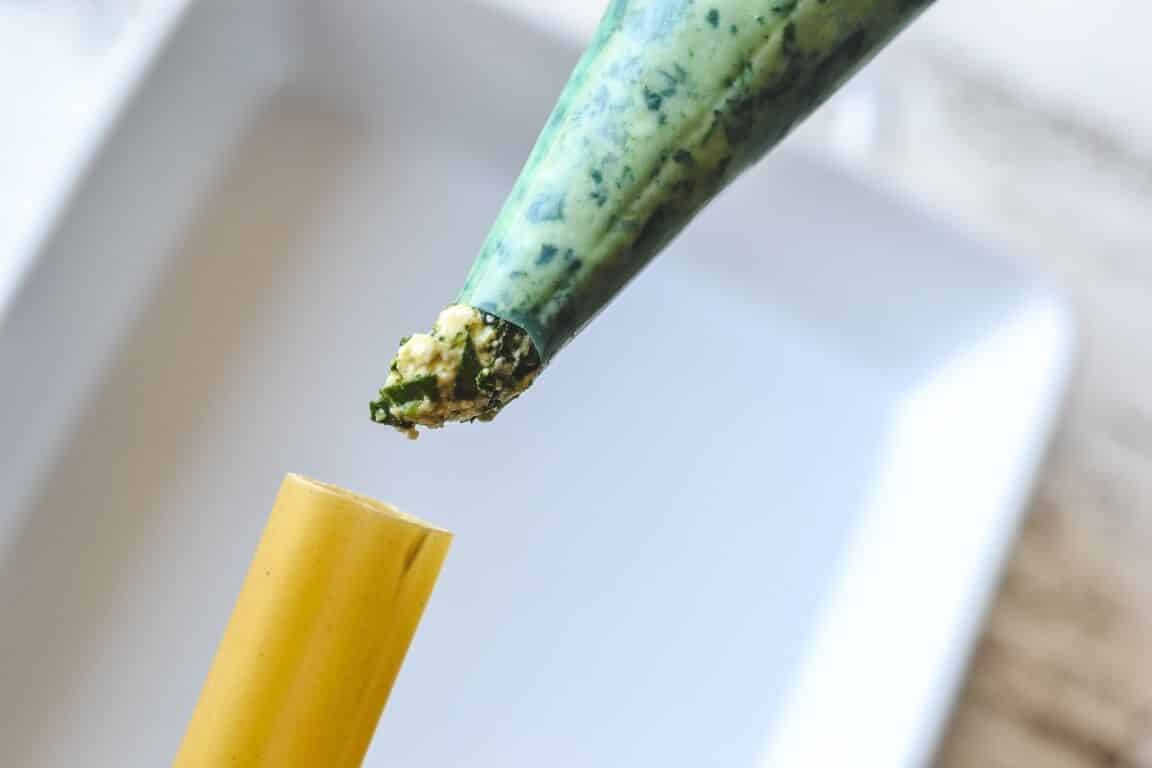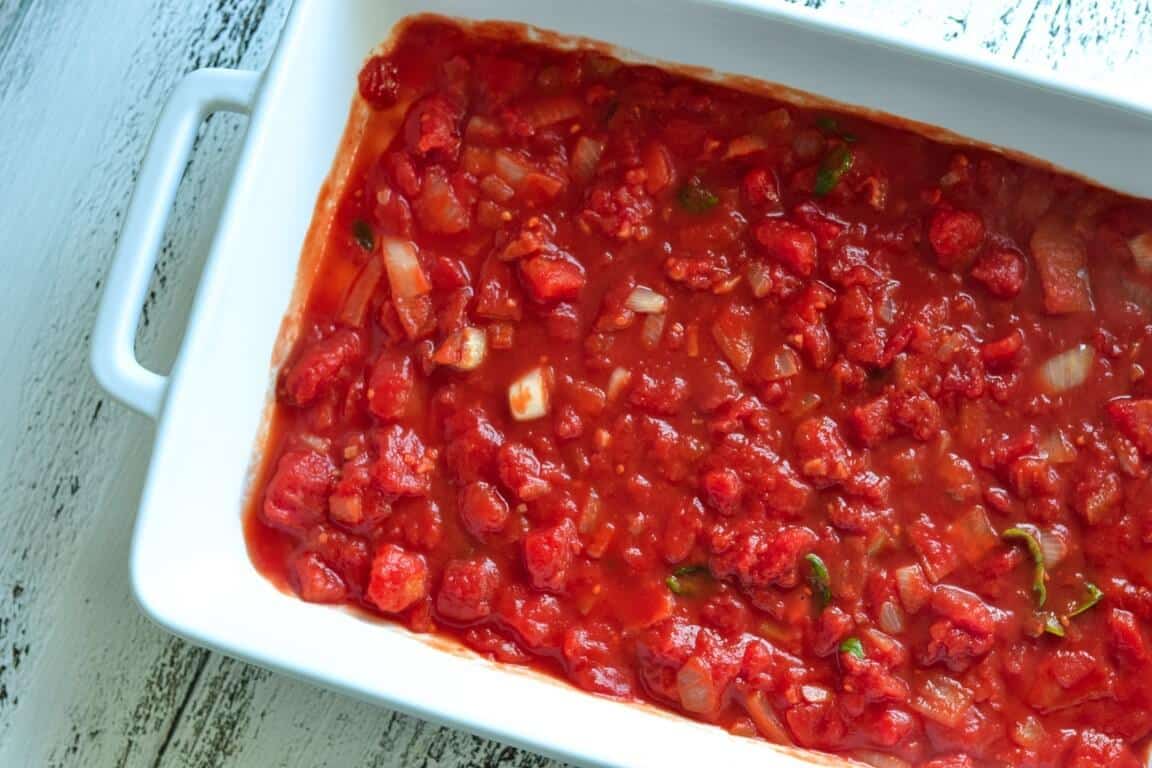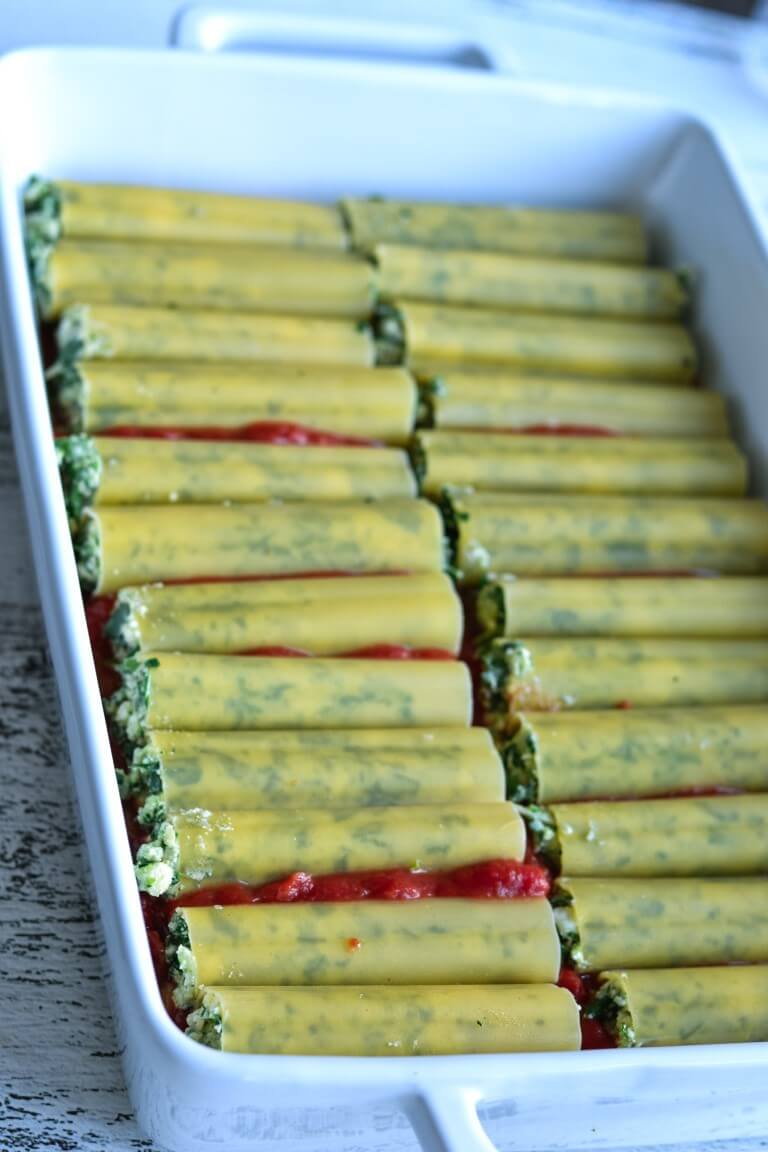 This recipe makes a very generous amount, approximately eight serves. You can freeze some for later, or halve the recipe if you choose.
If you try this baked spinach and ricotta cannelloni in tomato sauce, don't forget to leave a rating or comment, I love hearing from you! Or come and say hi on Facebook, Instagram and Pinterest.
If you can't get enough of spinach and/or ricotta deliciousness, try these recipes too;
Ingredients
375g dried cannelloni tubes

750g (approx. 3 cups) fresh ricotta

1 egg plus 5 yolks

3 crushed garlic cloves

2/3 cup grated parmesan cheese

salt and pepper

1-1 1/2 tsp ground nutmeg

250g frozen spinach, thawed

120g fresh baby spinach leaves, finely chopped

FOR THE TOMATO SAUCE

3 x 400g canned tomatoes

3 heaped tbs tomato paste

3 garlic cloves, crushed

1 onion, finely chopped

salt and pepper

olive oil

1 bunch basil leaves, torn

PLUS

1-2 cups mozzarella cheese, shredded

1/3 cup parmesan cheese

TO SERVE

Fresh basil
Instructions
Pre-heat oven to 180C° (350F).
For the spinach and ricotta filling;
Using your hands, squeeze and discard any excess water from the defrosted spinach.
Place the ricotta, eggs and yolks, garlic, parmesan, salt, pepper and nutmeg along with the fresh and frozen spinach into a large mixing bowl. Mix until creamy and completely combined. Set aside.
For the tomato sauce;
Heat approx 1/4 cup olive oil in a large frying pan over medium-high heat. Add the garlic, onion, salt and pepper and stir until the onions have softened.
Add the canned tomatoes, tomato paste and basil and simmer for five minutes. Remove from the heat and set aside.
To assemble;
Add half of the tomato sauce to the bottom of a large, deep baking dish.
Add the ricotta filling to a large piping bag (or cut a hole in the corner of a disposable bag) and pipe the filling into the cannelloni tubes.
Place the tubes evenly along the bottom of the baking dish in a single layer. You can do this in two smaller baking dishes if you choose.
Top the cannelloni shells with the remaining tomato sauce and ensure that they are completely covered.
Top with the shredded parmesan and mozzarella cheeses and cover with foil (optional).
Bake for 30 minutes. Remove the foil cover and return the cannelloni to the oven to bake for a further 10-15 minutes, until the pasta has softened and the cheese has browned and become bubbly.
Serve immediately and top with some more fresh basil. Enjoy!
Are you following us on Facebook, Instagram and Pinterest?
Thanks for reading! Subscribe to The Cooking Collective to have more beautiful recipes delivered straight to your inbox.